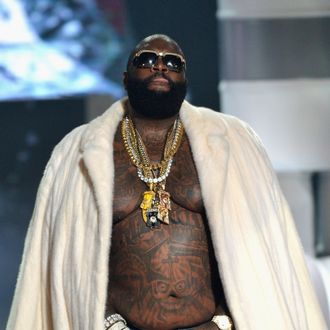 Rick Ross onstage in Atlanta. (Rick Diamond/Getty Images)
Photo: Rick Diamond/2012 Getty Images
Rick Ross and Young Jeezy's ongoing feud got physical yesterday during a taping for the 2012 BET Hip-Hop Awards. It started backstage but soon migrated to the parking lot, where the two musicians' entourages got involved. For a blow-by-blow, we'll hand things off to Funkmaster Flex, who was on the scene tweeting up a storm.
7:12 PM: Jeezy and Rick Ross just had words backstage!! Pushing and shoving!!!
7:14 PM: Beef just spread to the parking lot!!!

7:18 PM: Shots fired in parking lot!!! Gunman arrested!!! Back to the show and Club later!!!
Machine Gun Kelly, apparently in the mix, confirmed fallout from the brawl half an hour later:
7:51 PM: Got mase [sic] in my eyes. That beef shit just got real outside.
Meanwhile, the Atlanta Civic Center – where BET was taping — was locked down and the police were called in. Except no arrests were actually made, TMZ reports, despite what Funkmaster Flex heard, with Atlanta police also clarifying that, "reports of shots fired appear to be untrue."