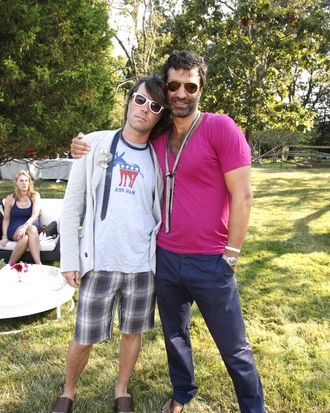 Rufus Wainwright, Jorn Weisbrodt.
Photo: ADRIEL REBOH/Patrick McMullan
Crooner Rufus Wainwright recently married his longtime beau Jorn Weisbrodt, so when we caught up with the couple this weekend at Cindy Sherman's East Hampton home for an event launching the Azuero Earth Project, we had to know how the nuptials went down. "It was pretty intense," admitted Weisbrodt. Added Wainwright, "We were working a lot right up until the wedding. I was on tour. He runs a festival in Toronto. So it was fast and furious." Wainwright said the 250-person wedding was a lot of fun, "and we did it at our home in Montauk, then had a dinner at the Clam Bar on Route 27 and then an after-party at the Shagwong bar, so we wanted it to be a kind of Montauk experience."
Still, marriage hasn't seemed to soften Wainwright's impish spirit, as he showed up for the fête in a Democrat-themed T-shirt reading "Ass Man." It's safe to say, then, that Wainwright is pleased that the president endorsed gay marriage earlier this year.
"We didn't plan it out that way, but it is a little bit serendipitous how much [the wedding] fit into the political climate right now," said Wainwright. "For a long time, I was one of the unhappy people with how Obama was faring and what he was putting forth, and I understand there are people who still feel that way. And now I feel lucky and happy that when I go to vote I have a concrete reason. I feel like I made it in under the rope. I would have voted for him anyway, but it's nice to have that extra validation."
And what did the self-described "Rachel Maddow addict" think of the Republican National Convention's surprise speaker? "It's funny: I've met Clint Eastwood, and he seemed like a really gentle and kind gentleman, but wow, that perception has changed," said Wainwright. "I mean, I understand him being a bad guy in movies, but in real life, I thought he'd be a little classier."