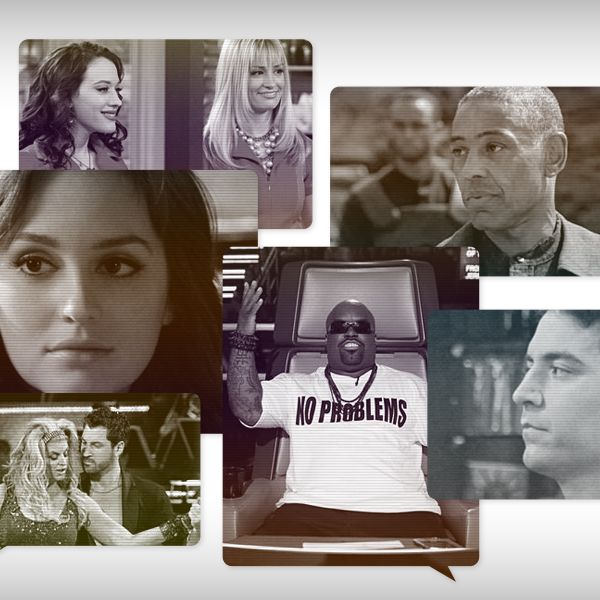 Fall TV, how sweet the sound. New shows, new faces, returning shows, returning faces — and the 2012-13 season begins in earnest tonight, with NBC rolling out the season premiere of The Voice, though some ABC shows won't premiere until November. This week on Vulture we'll be taking a close look at the new schedules, night by night, and addressing the most burning questions. Today we start with Monday, where veteran shows like Dancing With the Stars and How I Met Your Mother are starting to show their age, new shows like Revolution are trying to prove their mettle, and the CW is just trying to hang on.
Should This Be It for How I Met Your Mother? Eight seasons is a lot of seasons for a sitcom. And HIMYM has had a good run by any measure: The show gets solid ratings, and it can still pull off its signature silly earnestness and big emotional moments when it needs to. But nothing lasts forever, and HIMYM's better off calling it a day now than letting CBS wring a ninth season out of Ted Mosby et al because it's a show about growing up, and these characters are now pretty much grown. Showrunner Craig Thomas says he and co-creator Carter Bays are approaching this coming season as the show's last, but we'll see: CBS has every reason to want to keep the series going, and, well, capitalism exists. The danger for a possible ninth season is that HIMYM's cast members are increasingly in demand, which means they might not all sign back on full-time for another season, and HIMYM without everyone would be a travesty. For all the slapping, the suits, the grand gestures, the failed romances, the bets, the goat, the time warps — we want this show to go out on top and intact.
Can the serialized Revolution Replicate the Magic of J.J. Abrams's Last True Mythological Hit, Lost? Revolution is a J.J. Abrams production, and you know what that means: Here be dragons. On the one hand, yes, it's an engaging, high-energy pilot with a hell of a premise (the world mysteriously lost all electricity fifteen years ago and now everything is borked, with the post-apocalyptic equivalent of peasants and despots), and a promising blend of action sequences and strong characters. On the other hand, though, we point you to Abrams's disappointing Alcatraz. And the blah Person of Interest. And Fringe, which has its strengths but is also not really a J.J. show anymore and is maybe not a long-struggling show that particularly needs replicating on broadcast TV. Beyond the Abrams oeuvre, Revolution is but the latest in a long line of high-concept sci-fi-tinged failures like Terra Nova, Past Life, Day One, V, The Event, FlashForward, and on and on. Revolution's definitely not bad, and it has plenty of potential to be good. (We'd watch a second episode for the disaster porn alone. The image of an overgrown, abandoned Wrigley Field is incredibly striking.) But it better capitalize on that potential quickly, because after years of being burned by similar shows, viewers' DVR probation period is incredibly short. Cliffhangers are fun. Consistency more so.
Does The Voice Stand a Chance Airing Two Cycles a Year? Even if The Voice has succeeded in one major way — launching Adam Levine and his lovable douche persona into another level of fame — the singing competition with the spinning red Star Trek chairs hasn't exactly usurped American Idol's mega-hit crown. The Voice has buzz to be sure, but despite the hype and a post–Super Bowl second-season premiere (watched by 37 million viewers), ratings for the show are down (last season's finale scored a 3.5 adults 18-49 rating vs. the first season's 4.4). The contest also has yet to produce a winner capable of breaking through with a Top 40 hit, which makes us wonder: Who's voting for The Voice, anyway? (This year's champ, Jermaine Paul, was crowned after crooning that adult contemporary wonder, "I Believe I Can Fly.") Potentially most damaging to the franchise: NBC is premiering a new cycle just four months after last season ended. The gamble will no doubt test viewer patience and fatigue with the singing show format; Idol and The Voice already went head to head in the beginning of the year, and this week The Voice will face off with the return of Simon Cowell's revamped The X Factor (now featuring Britney Spears). How many hours of auditions and judging and pleas for votes can audiences take? While The Voice's quartet of coaches remains the same, executive producer Mark Burnett did futz with the format to incorporate more button pushing (literally). In a new round dubbed "the steal," coaches can poach discarded contestants from one another during the battle rounds. Another addition, the "knockout round," is too much to explain, but promises to secure The Voice's status as the most complicated of all singing shows. You can take that to the bank, NBC.
With Gossip Girl Saying Goodbye, Whither the CW? At the end of last season, Serena tried and failed to become the Upper East Side's "It" girl again by doing what she did way back in season one – having drunken sex on a bar! The lesson for both Serena and the show: You can't just go back to being "cool." The drama we once unironically pronounced The Greatest Show of Our Time has been running out of OMFG juice for awhile (i.e. Blair and Dan became an honest to goodness thing last season … eh) and while we've always managed to cling to whatever the hell Chuck is saying or doing (adopting a dog, kissing a guy), Gossip Girl's fall from social grace has become a less attractive proposition for the CW; the network will get six seasons out of the show — a good run by any measure — and it remains buzzy, but last season's penultimate episode dipped to a series low of 830,000 viewers. Part of the problem is the network was never able to successfully build on Gossip Girl's sophisticated, soapy brand of teen TV genius (an inferior 90210 reboot has been a utility player at best, and a model drama starring The O.C.'s Mischa Barton was canceled after two episodes), and so the zeitgeist moved on. Competition from ABC Family (Pretty Little Liars and Switched at Birth) and MTV (Awkward and Teen Wolf) blew up. These days, the most popular kids on the CW have fangs and this fall the network is forging ahead with big genre shows to make the most of its Vampire Diaries fan base, with fall entries Arrow and Beauty and the Beast. When Gossip Girl signs off forever at the end of the year after its last ten episodes, it will turn over its timeslot to the PG-13 Sex and the City prequel The Carrie Diaries, a surprisingly tender look at a teenage Carrie Bradshaw as she comes of age in 1984's suburban Connecticut. It happens to be the best pilot produced for the CW since … ever, and could win back the audience Gossip has lost. Still, count us among the dwindling faithful who will miss B, her Audrey Hepburn fantasies, and her social-climbing minions. 
Can 2 Broke Girls anchor CBS's Monday comedy lineup? Mondays are to CBS comedies what Must-See TV Thursday had been to NBC until recently: a hit factory. The Eye has been launching sitcom successes on Mondays for a full 25 years now, from Murphy Brown and The Nanny to Everybody Loves Raymond and How I Met Your Mother. Most recently, Two and a Half Men has held down the 9 p.m. anchor slot for CBS on Mondays, but after seeing its ratings decline in the second half of last season, the Eye made the smart move to shift it to Thursday nights, where it will benefit from being behind the red-hot The Big Bang Theory. 2 Broke takes its place, with CBS execs firmly convinced it's ready to take on a big role after just one year. They're probably right. Not matter how much critics carped about Michael Patrick King's stereotype-centric humor, audiences kept coming to the show during its freshman season: By the end of its first year, the series was among Nielsen's top ten entertainment shows with viewers under 50 and even outperformed its HIMYM lead-in. The show has also done decently in repeats this summer, indicating word of mouth may be leading new viewers to discover the show. The one possible hiccup in the CBS plan is that, instead of HIMYM, 2 Broke will now have the awfully underwhelming new comedy Partners as its lead-in. If that show starts tanking with viewers, it could slow some of 2 Broke's momentum. It's also worth noting that early in the season, ratings comparisons between 2 Broke and Two and Half Men won't be pretty. The latter series saw its numbers explode last fall in the wake of Charlie Sheen's exit. But Men fell back to earth by spring, and if Broke can equal or even surpass those numbers, CBS will have kept its comedy factory humming.
Should Dancing with the Stars switch to a once-a-year schedule? Cast-driven reality shows like DWTS see their numbers fluctuate based on how audiences respond to the contestants in the competition: More interesting celebs generally means bigger ratings. But ABC's cheesy-yet-lovable throwback has been steadily bleeding viewers, achieving ratings lows for each of its past two cycles. Recognizing the downturn, ABC smartly decided to go with an all-star edition this fall, hoping the show can woo back fans who haven't been that impressed with recent celeb collections. While this may stop the Nielsen erosion, it's probably time for the Alphabet network to cut back on its DWTS habit and turn the show into a bigger event by limiting it to annual status. A similar plan worked for The Bachelor a few years ago. During that show's first six seasons, ABC aired two cycles of matchmaking every year, until ratings started to crater. It then put the show on a slightly extended hiatus, returning it in January 2009 as a once-a-year competition. Ratings went back up, and the show will begin its seventeenth cycle this winter. We're not sure if DWTS would work better in the fall, winter or spring, but we're pretty sure ABC needs to stop force-feeding America such a heavy diet of bad dancing. Let the show rest, and America might be more interested.