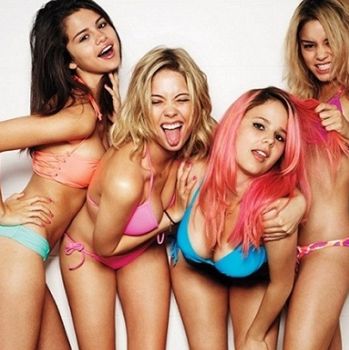 Forget cable television: 2012 has put sex back in the multiplex. In addition to the unclothed Magic Mike, which raked in over $100 million at the box office, each of this year's major film festivals has been positively dominated by carnal knowledge, whether it's Sundance, where disabled John Hawkes hired a full-frontal Helen Hunt to relieve him of his virginity in The Sessions, or Cannes, where Nicole Kidman gave Zac Efron a golden shower in The Paperboy and Kristen Stewart engaged in a giddy double-handy in On the Road, and now Toronto, where director Harmony Korine (Gummo, julien donkey-boy) has brought his delirious bikini–kill epic Spring Breakers, starring James Franco, Selena Gomez, and Vanessa Hudgens. This is a film that opens to a dubstep-scored, slow-motion sequence where frat boys pour beer on bouncing titties at the beach. 2012, y'all!
Spring Breakers casts Gomez, Hudgens, and two other interchangeable blond girls as small-town teens who are literally writhing with boredom, ready to bust out the bikinis and head down to Florida for spring break. In order to afford the trip, they rob a restaurant with some water guns (one bad girl barks to the others as encouragement, "Just pretend you're in a movie or something!"), and soon enough, they're cavorting in dollar bills as one of our ladies coos, "Seeing all this money makes my pussy wet," and another replies, "It makes my tits look bigger!" (Incidentally, this may be the best screen dialogue Vanessa Hudgens has ever been given.)
But once the girls make it to Florida for spring break, they get even wilder … and so does Korine. There's a seemingly limitless supply of sequences where Gomez will call her grandma back home and murmur "We saw some beautiful things here" as Korine cuts to a debauched spring break threesome, or Gomez doing a bong hit, or a shot of all four girls squatting by the side of the road, peeing through their bikini bottoms. It's silly, and it's on the nose, and it's great. And then they meet James Franco.
What Matthew McConaughey did for Magic Mike, Franco does for Spring Breakers: Each pushes their star power past parody as the debauched MC holding court over a motley crew of hard-bodied, in-too-deep young ones. In this case, Franco is playing a rapper–criminal named Alien, and he's done up in cornrows, tattoos, and a ratty beard where it looks like every strand grew out to a different length. "I'm from a different planet, yo'll," he says (combining "yo" and "y'all" seems to be a thing with Alien) as he takes the girls on a tour of his decked-out seaside pad: "I got nunchucks, I got shuriken, I got my dark tanning oil … "
Soon enough, they're all committing crimes and coitus together, and eventually, it all leads to a centerpiece sequence where a shirtless Franco sits at a white piano by the beach, plinking out Britney's "Everytime," as the girls frolic with shotguns while dressed in swimsuit tops, DTF-emblazoned sweats, and pink ski masks. This movie!
Korine embraces a somewhat more conventional indie-movie cutting style than he has in his past work, but Spring Breakers is still a left-of-center blast from nearly everything else Hollywood puts out. (If anything, it feels like a really gonzo, gigantic Larry Clark movie, which suggests that for Korine — who wrote the screenplay to Clark's Kids — the pupil has become the master.) It even manages to make something out of Hudgens, who heads to the basement of her usually vacuous screen persona, lifts a trap door, and descends even further into a nihilistic, fuck-it, charismatic kind of place. She may be the real deal, yo'll.