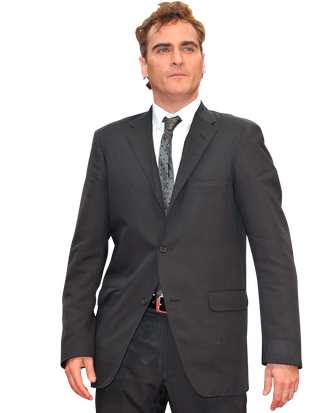 Photo: Pascal Le Segretain/Getty Images
In 2009, a heavily bearded weirdo wandered onto The Late Show with David Letterman and seemed intent on imploding his career. That man was Joaquin Phoenix, and we now know that the appearance was a joke — a segment for the celebrity art project I'm Still Here, which Casey Affleck and Phoenix released in 2010 to less-than-enthusiastic reviews. Paul Thomas Anderson's The Master is the 37-year-old Phoenix's first role since that debacle, and critics are almost universally touting his performance as a triumphant return to form. But can it undo the damage of four years off the map (and one spectacularly unflattering film)? And does he even care? Vulture spoke to industry insiders to answer the question: If Joaquin Phoenix were a stock, would you buy, sell, or hold?
Stock History: After a child-acting stint — mostly guest TV gigs — under the name Leaf Phoenix, Joaquin resurfaced as the tortured boy-toy to Nicole Kidman's deranged news anchor in Gus Van Sant's To Die For. One romantic lead (Inventing the Abbotts, opposite real-life girlfriend Liv Tyler) and a string of offbeat supporting characters later, Phoenix wound up ordering Russell Crowe to death as the creepy, incestuous Commodus in Gladiator. The role earned Phoenix his first Oscar nomination, and his pick of big-budget movies; it's almost strange now to remember that Phoenix spent the early aughts pleasing audiences in films like Ladder 49 and M. Night Shyamalan's Signs and The Village. 2005's Johnny Cash biopic Walk the Line was the culmination of his mainstream phase, landing him a second Oscar nod and establishing him as a big-name talent who could have his pick of big studio films — and he did all he could to resist this momentum with two small James Gray films, Reservation Road, and the facial hair experiment known as I'm Still Here.
Peers: "He's not a traditional leading man," explains one agent, "Brad Pitt (48), or Matt Damon (41), or Bradley Cooper (37)? They'll all get the call first. He's been on the next tier — with the Ben Afflecks of the world: Ben (40), Jeremy Renner (41), Tom Hardy (34), or Michael Fassbender (35)." Explains a second talent agent, "He's actually more akin to like, Leonardo DiCaprio (37); even though he's on the same lists, he's not interested in doing commercial stuff, either. Joaquin just wants to do interesting characters."
Market Value: Though he was never the big-name draw, Phoenix did pick a handful of mainstream winners — Gladiator ($187 million domestic), Signs ($227 million domestic), The Village ($114 domestic) — and you could argue that co-starring with Reese Witherspoon in Walk the Line ($119 million domestic) added to his value considerably. But I'm Still Here and the related public strangeness cratered whatever post–Walk The Line appeal Phoenix had going (which was quite likely the point). He's effectively in restart mode: His talent is undeniable, but there's still a lingering perception that he's an oddball, even if he did clean up good when he went on Letterman to promote I'm Still Here and declared his previous odd appearance performance art. The Master will likely be a big Oscar contender, and his performance widely discussed, but Anderson's complicated film is unlikely to be a mainstream hit.
What Hollywood Says: "He's so un-relatable," complains a third talent rep who represents a hot leading man. "I understand that his work in [The Master] is transcendental and expert, but if he becomes a star, it'll be with reluctance and the help of something magical." This rep is careful to add that this is more to do with Phoenix's apparent congenital discomfort with stardom and mainstream films than with his innate abilities or appeal. "I don't see him becoming commercial," says this third rep, "He almost works to make sure he doesn't. He's inscrutable and odd. I wished I lived in an America where that didn't matter, but he's not right for a lot of stuff."
This, talent agents say, has much to do with Phoenix's off-screen demeanor, and not just the bearded phase. "He seems angry," says our third talent pro, adding, "I look at him like I look at Edward Norton, and say, 'Um-hmph!?' You wear your talent like it's an albatross, like its some kind of burden?" This sentiment is echoed by a veteran publicist, who frustratedly admits that there is little that can be done to rehab his image other than limiting conversations to his acting craft. "With him, you need to make sure [the interview] doesn't veer off the work," says this publicist, "When he talks about personal stuff, he seems to have nothing going for him, but when he talks about his craft, he's great."
Analysis: Phoenix's talent is a given, but his ability — or willingness — to reconnect with audiences is still in question. Even those within Phoenix's own camp admit that "the guy freaking disappeared himself for the last three years" but are quick to note that The Master has reignited interest in the actor, who is considered a shoo-in for an Oscar nomination.
Other, normally acid-tongued rival agents agree. "Venice has certainly helped," allowed our first agent, noting that the judges of that storied Italian festival found the performances of Phoenix and Philip Seymour Hoffman too superlative not to recognize, even though doing so meant that Anderson had to be content with a second-place prize, the Silver Lion. (The arcane rules of the Venice Film Festival preclude the winner of the top film prize from receiving any other awards.)
Even still, says this first agent, "It's a tough call, because what's he going to do with all the attention?" — a point echoed by our second talent agent: "If he decided to do something commercial and run around with a gun and save the day, people would think of him differently. When he got the Oscar nomination for Walk the Line, he could have done some tent-pole franchise; he just wasn't interested in doing that kind of stuff. Whereas someone like Jeremy Renner leapt at the chance to do a Bourne movie."
Keep in mind, the Star Market measures one's power in Hollywood and at the box office, not their talent. Phoenix's drive to shine in complicated, quadrantless films works well for him because brilliant directors who make these kinds of movies all want to hire him: There was Anderson, of course, and he's now scheduled to fall in love with an operating system in Spike Jonze's Her, then reunite with James Gray to play an old-timey pimp opposite Marion Cotillard in Nightingale. None of that is the easily digestible studio fare our second talent agent recommends, but if Phoenix does want to dip his toe back into big-studio fair, the pedigree and simple visibility that comes from working more in these films could go a long way in reestablishing him on the lists that matter.
Bottom line: "He's a 'buy' — because he swims in the A-list director pool," says our first agent, "And because, to be honest, I would love to be working with an actor of that caliber. But here's how I measure if someone is a movie star: I ask, 'Does anyone want to go see a movie just because it's a Joaquin Phoenix film?' And right now, that answer is no. So will he stay a 'buy'? I guess a lot will depend on how he behaves in promoting this film."
Rating: Weak Buy