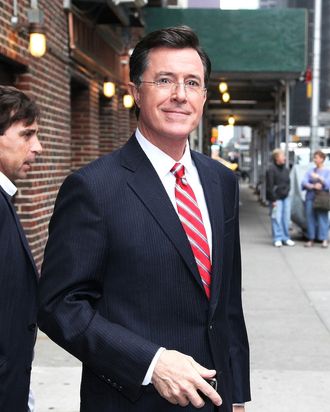 Stephen Colbert arrives at 'The Late Show with David Letterman'.
Photo: Kyle Blair / Splash News
The Nard Dog, alias Andy Bernard (played by Ed Helms), has created a lasting oeuvre of fine musical moments on The Office, many of which hearken back to his Cornell a cappella group Here Comes Treble. In the upcoming final season's Halloween episode, Stephen Colbert will appear as one of the group's wonderfully christened former members, Broccoli Rob. Nard and Brocc will butt heads and probably create some sort of humorous music.