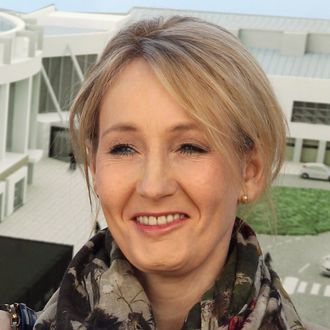 J.K. Rowling.
Photo: Jeff J Mitchell/Getty Images2011 Getty Images
It's Sunday afternoon, or: your last chance to read all that stuff you meant to read last week before Monday brings a new deluge of things you will want to read. Below, some of our recommendations:
"Mugglemarch" by Ian Parker (New Yorker): A rare, lengthy, and less-than-flattering profile of J.K. Rowling. 
"Louis C.K. and the Rise of the 'Laptop Loners'" by Adam Wilson (LA Review of Books): Why Louie is the perfect show for the Internet Age. 
"The Best TV Show That's Ever Been" by Brian Raftery (GQ): An oral history of Cheers.
"Branded for Life" by Felix Gillette (Bloomberg Businessweek): A look at the blessings and curses of actors who become TV commercial stars. 
"Joseph Gordon-Levitt reveling in Looper, hitRECord, and his directing debut, but not fame" by Tasha Robinson (A.V. Club): The actor addresses his "serious" reputation and explains why he does not want to end up on your Facebook profile.
For more in-depth weekend readings, visit our friends at Longreads.