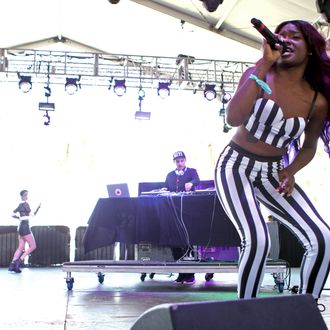 Azealia Banks.
Photo: Karl Walter/Getty Images
It's Sunday afternoon, or: your last chance to read all that stuff you meant to read last week before Monday brings a new deluge of things you will want to read. Below, some of our recommendations:
"The Making of Azealia Banks," by Zach Baron (Spin): The Harlem native on moving to L.A., disassociating herself from "the rap game," and what — if anything — it means to be famous at 21 years old. 
"Animal Collective," by Mark Richardson (Pitchfork): The band sits down for a pre-Centipede Hz release interview about growing up and moving to Mars. 
"Angel on Horseback," by Evgenia Peretz (Vanity Fair): The Help's breakout star on her busy 2011 — she acted in six films, including Terrence Malick's The Tree of Life — her tendency to tear up, and her return to the theater. 
"Amish fiction: Put a bonnet on it," by Deborah Kennedy (Salon): Move aside E.L. James, and make way for Beverly Lewis's The Shunning and a new (Amish/Mennonite) publishing sensation. 
"Boardwalk Empire showrunner Terence Winter dissects the show's second season," by Noel Murray (AV Club): An exhaustive, four-part (I, II, III, IV) discussion of pretty much everything that happened on the historical drama's last season, which should leave you fully prepared for the new one (premiering September 16th.)
For more in-depth weekend readings, visit our friends at Longreads.