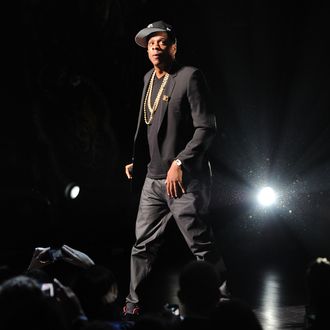 Photo: Jason Kempin/Getty Images
It's Sunday afternoon, or: your last chance to read all that stuff you meant to read last week before Monday brings a new deluge of things you will want to read. Below, some of our recommendations:
"The House That Hova Built," by Zadie Smith (T Magazine): Jay-Z explains how he's managed to stay relevant over his decade-and-a-haf career.
"Beyond the Matrix," by Aleksandar Hemon (New Yorker): Matrix co-creators Lana and Andy Wachowski on their newest effort to blow your mind, The Cloud Atlas. 
"I know why Bret Easton Ellis hates David Foster Wallace," by Gerald Howard (Salon): An editor who worked with both writer's explains the roots of Ellis's recent Twitter freakout over D.T. Max's new Wallace biography, Every Love Story Is a Ghost Story.
"David Byrne & St. Vincent," by Jayson Greene (Pitchfork): The May-December collaborators talk about their new album, Love This Giant.
"An Open Letter to Wikipedia," by Philip Roth (Page-Turner/New Yorker): An inaccuracy on the Wikipedia page for one of his own novels prompts the author to set the record straight — at length. 
For more in-depth weekend readings, visit our friends at Longreads.