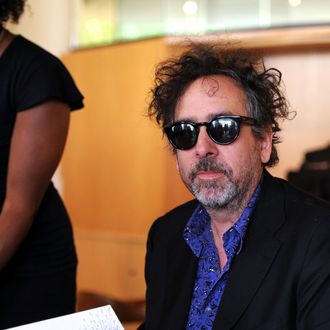 Tim Burton.
Photo: Frazer Harrison/Getty Images
It's Sunday afternoon, or: your last chance to read all that stuff you meant to read last week before Monday brings a new deluge of things you will want to read. Below, some of our recommendations:
"Tim Burton, At Home in His Own Head," by Dave Itzkoff (New York Times): The refreshingly self-effacing director talks about his upcoming Disney short, Frankenweenie, his fraught relationship with the studio where he began his career, and how Dark Shadows made a tidy profit, despite all the bad press. 
"Inside 'Modern Family's' Billion-Dollar Winning Formula and How Season 4 Might Change Everything," by Lacey Rose (The Hollywood Reporter): The family is growing up. Can viewers handle it?
"Wyclef Jean: I loved Lauryn Hill and my wife," by Wyclef Jean (Salon): An (really) exhaustive account of the relationship that broke up the Fugees and gave the world "The Ex-Factor." 
"This Year's Model," by Eric Harvey (Pitchfork): Is Amanda Palmer's use of social media (not to mention Kickstarter) part of the DIY tradition, or is it just self-promotion? 
"Fifty Years of Bond, James Bond," by David Kamp (Vanity Fair): With the 23rd installment of the Bond franchise, Skyfall, due out next month, it's as good a time as any to remember when Ian Fleming, a guy named Broccoli, and Sean Connery — the only true Bond, in some people's estimation — worked on Dr. No. 
For more in-depth weekend readings, visit our friends at Longreads.