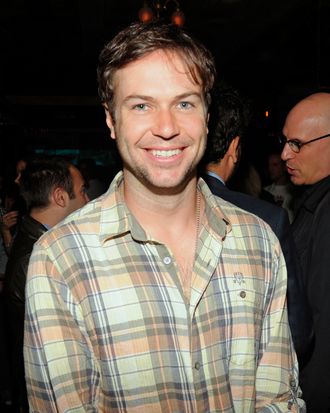 Photo: PAUL BRUINOOGE/Patrick McMullan
Taran Killam has had a busy few days. Over the weekend, he married his longtime girlfriend Cobie Smulders, just before heading back to work on the new season of Saturday Night Live. Vulture ran into him at the premiere party for Liberal Arts, the new movie from Smulders's How I Met Your Mother co-star Josh Radnor, and Killam filled us in on 12 Years a Slave, his magical Robyn tribute, and how he's hoping to be in a Joss Whedon venture one of these days.

Today was your first day back at SNL …
Back at work at SNL, and it was great, really great!
You have three new cast members.
We do. I share an office with Tim [Robinson] now.

Do you haze them, or break them in?
No, no, no. The job is scary enough. I hand-massage them. Not literal hand massages, but more like, "What poster should we put up?" I call poster decisions hand massages. We're thinking Kathy Ireland is maybe the way to go, to decorate the office. We share with [writer] Zach Kanin, who's from Harvard Lampoon, and it's a small office. All boys. We sleep over on writing nights, so it's going to be tricky because there's only one couch. That's where it'll get interesting — two on the floor, one on the couch. Unless we get very close to each other.

Please tell me you'll still be able to do more of those Robyn-type videos.
That's the thing, because the new office will have more space now!

Oh, good!
So the next video could be bigger and grander. The pressure's on. I think there will be more expected from me on the show. It was easy to do that in the downtime, but we'll see. It was such a fun, last-minute, late-night, fun thing.

It couldn't have been completely last-minute, because it took a bit of planning.
That's the amazing thing about our costume department. You can call them at two in the morning and they'll have a pink furry sweater ready for you in fifteen minutes. I just love the video. I'm a Robyn lover. The week before, they played the video for me, and I was like, immediately, "I love this." And then I was just watching it on a loop, and I would interrupt other people's writing meetings by going in and starting the video on full volume, and just through osmosis, I was able to get most of the dance moves down. I was cheating a little bit. There was some watching the video as I danced.

So I just ran into Paul Feig and he said you guys wrapped on The Heat last week, on Wednesday.
I love that project, and I love Paul Feig. Dan Bakkedahl from The Daily Show plays an albino DEA agent, and I am his partner, and we keep crossing paths with the girls [Sandra Bullock and Melissa McCarthy], and we do not get along. And they're so funny in this. I would have watched it anyway, and I can't believe they let me go play with them in Boston. I'm more of a straight guy, because Dan is so funny in it. I'm more the voice of reason, although I do partake in the misogyny from time to time.

How?
I need you to buy a ticket! I've already given you a whole bunch. What are you talking about? [Laughs]

You also have a dramatic role in 12 Years a Slave.
As joyful a set as The Heat, but about really depressing material. As a white man in that, I'm just bound to be evil. I can't be any good. But I like to think that maybe because I'm getting the story out there, I'm absolving myself of it? That's not true. There's no fixing this. We fucked up really bad. Really bad. But that was an incredible project. Comedy, I can do every week, but such an opportunity to work with Chiwetel [Ejiofor], and Steve [McQueen] in New Orleans, it was amazing. Have you gone? It's the best. We just drove around and got food and it was amazing.

Who are the worst in this? Paul Dano said his character was pretty evil.
After [Michael] Fassbender, he's probably the worst. As one of the abductors, I start it off, I'm the catalyst, but I do have a conflict of conscience. But I can't wait to see it. It's fucked up. It's terrible. And it's based on a true story. Have you read it? There's some levity, and Benedict Cumberbatch's character is some beacon of hope, and of course Brad Pitt comes in and saves the day, that's pretty much typecasting, but it was incredible. It's odd going from SNL, which is immediate — you write, you perform, and you get a response — to this, which won't come out for a year? I'm not used to that, so I'm putting it out of sight, out of mind.

Congrats on getting married this weekend, by the way …
It's pretty awesome.

But where is Cobie [Smulders]? You're here …
I just came out to support Josh [Radnor] and his movie, and it's weird, because we just saw each other 48 hours ago in California. Yeah, it's a blessed life.

You must have had a tight schedule, what with the movie wrapping, then the wedding, and then SNL starting up.
Yeah, and she had work, too.

So what about a honeymoon?
Every day with Cobie is a honeymoon! [Smiles]

Would you want to work in the Whedonverse? Because she's your in …
Yes! I'm so proud of her. And I'm a big Joss fan. I was a fan before she was even connected to him. Picture a 15-year-old Taran Killam being in his grandmother's television room, watching Buffy have to send Angel back to hell, just as he got his soul back, because Xander wouldn't tell her that Willow was working on a plan. Weeping. Sitting on the floor, watching that by myself, weeping. And then going back and realizing he's responsible for Toy Story, and the original Buffy the Vampire Slayer movie, which I love, and Firefly. I'm a big Firefly fan. I'm a Nathan Fillion fan because of Firefly. I would love to do [the sequel] to Dr. Horrible. I know Joss has seen my Robyn video, so if there's any big dance number in it, have him give me a call! [Laughs]