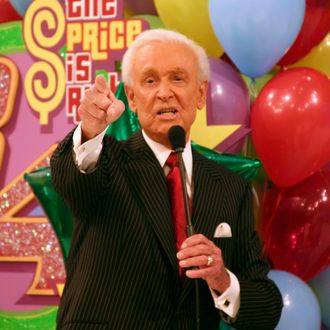 Television host Bob Barker presents to the audience during his last taping of "The Price is Right" show held at the CBS television city studios on June 6, 2007 in Los Angeles, California.
Photo: Tuukka Jantti/Getty Images
Does anyone not completely associate The Price Is Right with Bob Barker? Sure — the show's network for the past 40 years, CBS. A 40th anniversary special that aired Tuesday didn't include or invite Barker, though he hosted the show for 35 years and Price has filmed in a space called the Bob Barker Studio since 1998. Barker says CBS "chose to ignore me, which is fine." BARKER BURN. Begin the countdown until CBS's official apology and/or gesture of recompense.