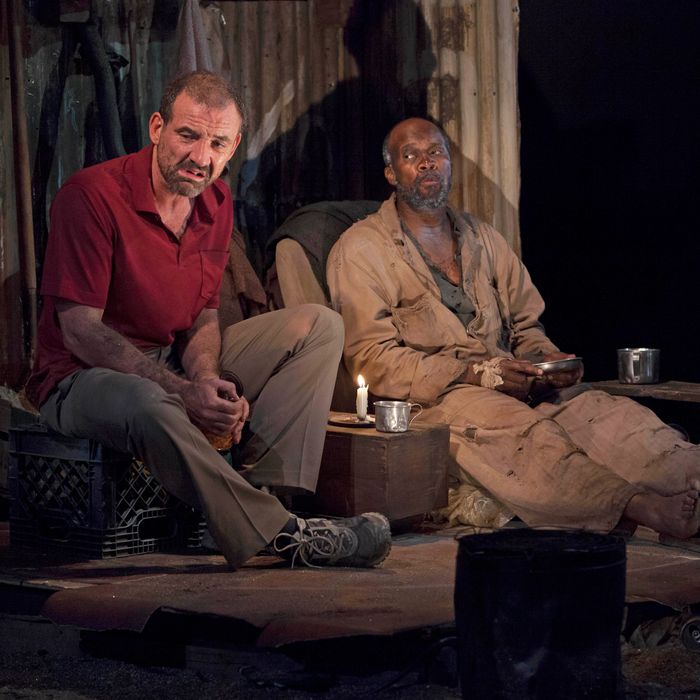 Leon Addison Brown and Ritchie Coster in Athol Fugard's
The Train Driver.
Photo: Richard Termine
Direct, determined, with an openness just shy of obviousness, Athol Fugard's The Train Driver (now receiving its American premiere at the Signature Center) has the strength of parable and a length to match: 90 minutes, a curtain-raiser by Fugardian standards. And Fugardian standards are otherwise in effect. There are two characters, both men, one black, one white. Roelf (Ritchie Coster) is the driver of the title, an ordinary-enough working-class bloke, "one of those guys that if his hands is busy, he's happy." He's traumatized after being at the wheel of an engine that struck a black woman from a squatter camp: She stepped in front of his train "between Dispatch and Perseverance," a baby strapped to her back. Their eyes locked as he ran her down, unable to brake in time. Now Roelf, showing signs of PTSD, has left his wife and family to find out why — and, failing that, to curse his dead tormentor. His journey has brought him to a graveyard for "the nameless ones," tended by Simon (Leon Addison Brown), an old man with a shack and a shovel and not much else. But Simon can't locate the grave Roelf seeks, and this touches off a days-long dialectic, with Roelf doing most of the dialoguing. "I just wanted to swear at her properly," he explains, pathetically. He was simply at the wheel. Does that mean he was at fault? And does it matter, with the damage done and un-undoable?
Coster handles Roelf's downward spiral with highly convincing emotional exhaustion, stabbed with imperiousness. "You've heard of Jesus?" he needles Simon, unhappy to see the old black man marking graves with hubcaps instead of crosses. The condition of the camp offends him; yet he knows the very existence of the camp, and the desperate condition of the people in it, is connected inexorably to him, to his presence here, to the color of his skin and the color of Simon's. Brown, for his part, displays great patience, restraint, and good humor in a role that requires him to absorb enormous waves of neurosis for scenes on end, emerging from a defensive crouch only intermittently. The Train Driver is best assessed as a long, single dialogue, and Fugard's direction focuses on underlining his own objectives as playwright, not finding the play beneath the text. The most punishing and most clarifying dramatic maneuvers don't occur until the finale, which has been telegraphed loudly from the start, but still packs a wallop (thanks to Coster and some hair-rising sound-design by Brett Jarvis and composer Doug Wieselman). The Train Driver leaves us stranded — rather nicely, I thought — with a question about the psychodrama of social guilt: Is it a process we undergo on the road to equilibrium, maybe even justice? Or just a quicksand of narcissism, another privilege of the old chromatocracy? Or both?

This being Fugard, we walk a highly allegorical road with Roelf and Simon, where train accidents always happen between Dispatch and Perseverance (not, say, between Grassridge and Sydenham). But these big billboards, unsubtle thought they may be, aren't ineffective, and as a sort of fugue on themes of flagellation, the play has beautiful, bruising passages. "Sometimes I think I've got so much to say," Roelf explains, addressing the spirit of the the dead woman as he stands alone amongst the shallow graves. "But then at other times I think there is nothing to say." His bone-deep fear is that they will never leave that moment, that she will forever be an anonymous black pauper "standing there on the tracks, and that for you I will forever just be a white man staring at you in the few seconds before you die." That's a moment of horror worth freeze-framing — even, as Fugard has decided, at the risk of stasis.
The Train Driver is at the Signature Theatre Center through September 23.