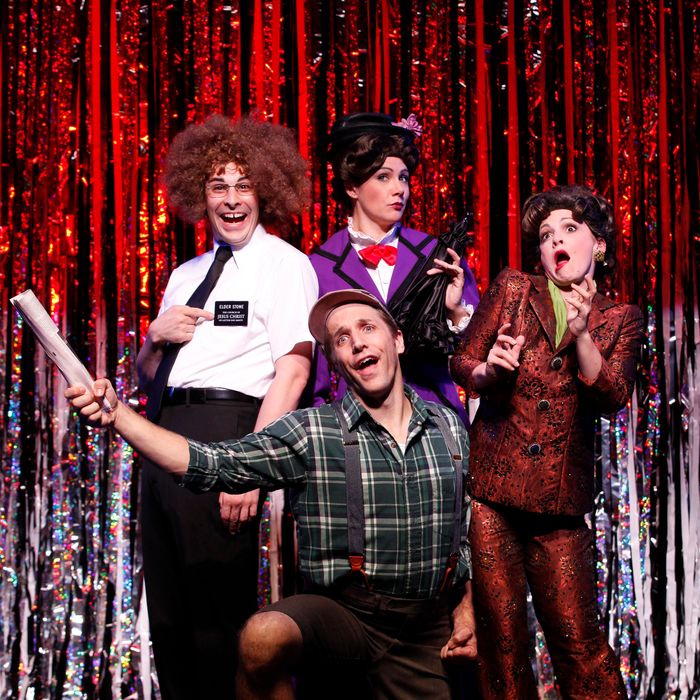 Forbidden Broadway: Alive and Kicking
To the strains of "Brink of Doom" (à la Brigadoon), the parody institution Forbidden Broadway — skewering the Great White Way for 30 years now — reemerges after a three-year hiatus. And just in nick of time: Dear God, there are SINGING NEWSBOYS and faux-Czech pixie goddesses running amok (and unmocked) in the theater district! This must not go unanswered!
Creator, co-director, and lyrical savant Gerard Alessandrini marshals a flawless quartet of singing, dancing impressionistas (Natalie Charlé Ellis, Scott Richard Foster, Jenny Lee Stern, and Marcus Stevens, with David Caldwell on piano) with another passionate attack on high-priced, low-inspiration commercial theater. He warms up a few leftovers (his old Disney-baiting "Circle of Mice," a slightly stale Jersey Boys sequence), but the fresh stuff is fresh indeed. "S'Wonder Bread! S'mayonnaise!" sings Nice Work's Matthew Broderick, "When I try to dance!" (A brilliantly leadfooted, fast-collapsing soft-shoe ensues.) "Take my cramping hand / And hire a band," warble shaggy Steve Kazee and cross-eyed Cristin Milioti, after a touching deconstructionist love scene. ("Would you like to make out on the two chairs I use as my bed?")

And naturally, there's a Smash suite — who knew there was anything left to parody? — anchored by Stern and Ellis as duelling Marilyns ("Let Me Be Subpar"). Worry not, Forbiddenites: Mandy Patinkin is back, accompanied by Alessandrini's other favorite target, Patti Lupone. But Forbidden doesn't content itself with low hanging divas: Even the critic-proof Mormon comes in for a healthy drubbing. ("And I believe," sings Trey Parker, "that ancient Jews like Richard Rodgers / Didn't write very good musicals!") It's not just a pleasure but a relief having FB back: Broadway without Forbidden Broadway is like a body without an immune system — or a sense of humor.

Forbidden Broadway: Alive and Kicking is playing at the 47th Street Theatre through January 6, 2013

Mary Broome
The tumult of the Edwardian has passed into the custody of Downton Abbey: a becoming backdrop for frothy country-house intrigue. Allan Monkhouse, I imagine, might've been ever so slightly appalled. His obscure Mary Broome is technically a comedy, a sort of earthy revisitation of Man and Superman, but with despair, confusion, and neurosis in lieu of Shaw's wry, deliberative optimism. Ably mounted by the Mint, the play tells the story of the Timbrels, moneyed bourgeoisie with a troublesome scion, Leonard (Roderick Hill), an aggressively committed dilettante and destructively impolitic speaker of ugly truths. He has also, as it happens, impregnated the maid, Mary (Janie Brookshire), less an act of rebellion than an expression of his animating chaos.
His indiscretion uncorks dark comedy in the opening scenes, and something darker still as the play progresses, and Leonard — and the rest of the imperious, befuddled males in this awkward and socially transitional pride — recede, and hand off Destiny to the women. For a piece of pleated realism, Mary Broome has some interesting wrinkles. You'll leave with a crease in your soul the servants will have trouble ironing away.

Mary Broome is running at The Mint Theater through October 18