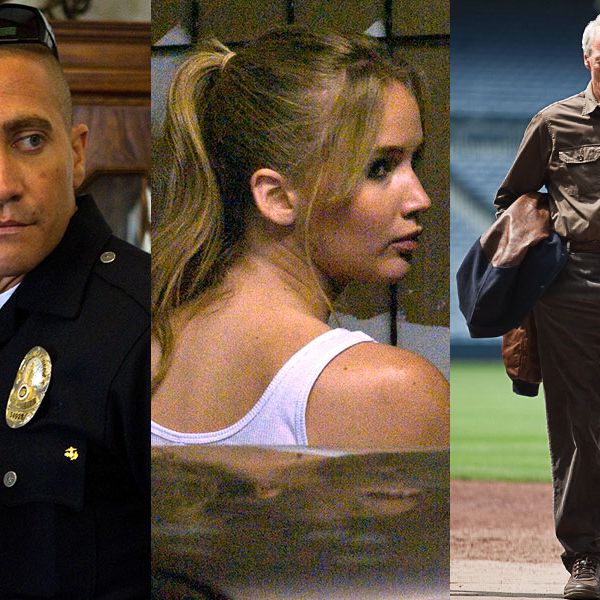 Photo: Scott Garfield/Sole Productions, Courtesy of Relativity Media, Keith Bernstein/Warner Bros. Pictures.
This Weekend's Winners: Three new films (End of Watch, House at the End of the Street, and Trouble With the Curve) were essentially tied for first place with roughly $13 million apiece, though, sadly, it seems to be a race to the bottom: This weekend's box office is down almost a third (-28.9 percent) from exactly a year ago.
Honorable Indie Mention: The Master expanded to almost 800 venues, taking in an estimated $5 million, while The Perks of Being a Wallflower gathered nearly a quarter of a million dollars from just four theaters, making it one of the year's top five best limited releases.
This Weekend's Loser: Despite decidedly un-dreadful reviews, Dredd 3D opened to $6.3 million in sixth place, or about half of what the original Judge Dredd grossed almost two decades ago.
How It All Went Down: As one distribution chief deadpanned in an e-mail to Vulture, "a cop movie that resembles Southland and a 'horror' movie that is geared for a segment of moviegoers that would rather see [Jennifer Lawrence] in — and spend their dollars on — The Hunger Games? It all adds up to mediocrity at its best."
In fact, it truly was a weekend in which no one film had what it needed nor got what it wanted. Perhaps saddest to see suffer was Dredd 3D, with one senior production executive at a rival studio lamenting, "When you have a remake like Dredd that gets 89 percent on Rotten Tomatoes going into its opening weekend, clearly the filmmakers did their job."
Unfortunately, as another studio chief observed, "[Good] reviews don't matter to the Dredd audience," adding that the film that would have most benefitted from them would have been Clint Eastwood's Trouble With the Curve. The problem, of course, was that Trouble didn't have them. "I always say bad reviews can hurt you by about $5 million if you need them," continues this studio chief, "which was definitely the case with Curve."
Not helping matters for Eastwood's film was that his normally beloved irascibility had recently taken a turn for the deliriously truculent on the national stage. "Clearly 47 percent of the population had no interest in seeing Clint Eastwood," opined our first senior production executive, referring to Mitt Romney's recent secretly videotaped talk. "Seeing his TV spots following the Republican Convention certainly turned off people." 
Meanwhile, a collision of demography also did little to help boost the fortunes of End of Watch. "End of Watch and Dredd 3D seemed to be the same audience to me," said a second studio's distribution capo, adding, "So why the same date?"
In point of fact, End of Watch exit polling shows just that: An audience that was slightly more than half  (54 percent) male and two thirds (63 percent) over the age of 25, while similarly, Dredd 3D was three fourths male and, more crucially, more than two thirds (69 percent) aged 25 years or older — clearly a tug-of-war over a demographic that benefited neither film and especially hurt this weekend.