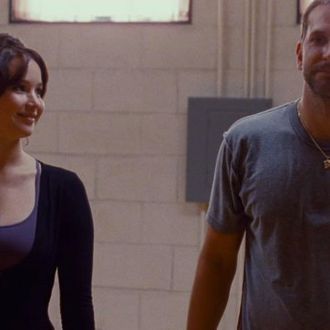 Bradley Cooper in 'Playbook.'
"I'm happy to announce, or re-announce…" Toronto International Film Festival artistic director Cameron Bailey began the anti-climactic unveiling of the Blackberry People's Choice Award (the fest's top prize) after he'd spoiled the news almost two hours earlier via an accidental Tweet. Bailey had swiftly deleted his congratulations to David O. Russell's Silver Linings Playbook, but not before word swept through the awards brunch, making the ceremony seem a little unnecessary. At least it was open bar. 
The award itself, though, is pretty significant. It vaults Playbook into the thick of the Best Picture race, giving it the most heat among the Weinstein Company's other heavyweight films this year: The Master and Django Unchained. (Although, with The Master breaking independent box office records, Harvey is having a pretty good weekend either way.) Past People's Choice winners have included Best Picture winners The King's Speech and Slumdog Millionaire. The first runner-up was Ben Affleck's Argo, about the wacky rescue of stranded Americans during the Iran Hostage crisis, by making them pose as a Canadian movie crew making a sci-fi flick. The prize should bode well for both films' Oscar hopes. 
And there were a few other pleasant surprises, despite the Playbook leak. Martin McDonagh's Seven Psychopaths (with psychopaths including Christopher Walken, Sam Rockwell, and Woody Harrelson) took home the Midnight Madness People's Choice Award and Artifact won the Documentary People's Choice Awards, despite having just debuted on Friday. Directed by Jared Leto, the film uses a $30 million lawsuit against his band, 30 Seconds to Mars, as a launching point for talking about the problems of the music industry. 
Most of the winners had already left Toronto, but of the few speeches, the most touching came from young filmmaker Xavier Dolan, who won Best Canadian feature for Laurence Anyways, a three-hour love story between a woman and a man who's decided to have a sex change. He thanked his producer "for letting me sleep on your couch after we found out about Cannes and I had to start Klonopin." The ceremony ended with a delightful video reel of the week past. Highlights: An exuberant, heartwarming surprise onstage reunion between Jackie Chan and his Rush Hour co-star Chris Tucker; Ben Affleck signing an autograph for an eight-year-old girl and muttering, "I haven't made any movies that are appropriate for you to see"; and Bill Murray introducing a Hyde Park on Hudson screening by telling the crowd about the theater's "great history of people turning off their cell phones."