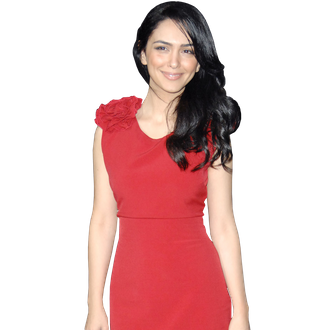 TomKat's obsessively covered divorce was barely official before rumors were already floating around that Cruise was on the market for another Scientology-approved companion. So, here's a cautionary tale for any young lady considering make a run for Tom, courtesy of Vanity Fair's Maureen Orth: In late 2004, Iranian-born Nazanin Boniadi — who has since appeared on General Hospital, How I Met Your Mother, and in 2008's Iron Man — was the only church-affiliated actress to make it through a rigorous Scientology "audit," (complete with recommendations to change her hair color and dump her boyfriend) before ultimately being presented to Tom Cruise. It didn't really go that well. 
Still believing she'd auditioned for a "training tape," Boniadi was naturally surprised when flown to New York City to meet Tom Cruise — though she soon put two and two together. The pair spent their first night together having dinner at Nobu and ice skating at Rockefeller Center before retreating to a full-floor suite at Trump Tower. It sounds like it would have been pretty romantic, had they not been surrounded by Scientology aides the entire time.
Boniadi then inadvertently offended her thin-skinned date when she congratulated him on the Scientology Freedom Medal of Valor he's been awarded by saying "very well done." This apparently made Cruise feel like she was talking down to him. Not long after, while hosting Scientology head David Miscavige and his wife, Boniadi insulted the fast-talking church leader by asking him to repeat himself — apparently a big no-no. As Marc Headley, a high-profile ex-Scientologist, remarked to Orth: "You can't do anything to displease Scientology, because Tom Cruise will freak out."
True to form, Boniadi was soon asked to leave the house (and bedroom) she shared with Cruise and later moved to a Scientology center in Florida, where she told a friend about the short-lived affair. Her "friend" naturally turned right around and ratted her out to church officials, who gave her a rather medieval punishment: scrub toilets with a toothbrush, scour bathroom tiles with acid, and dig ditches after dark.
Obviously the Church of Scientology disavows every fact in the Vanity Fair article, much as it disavowed The New Yorker's tirelessly fact-checked Paul Haggis article last year. Not that that'll do it any good.