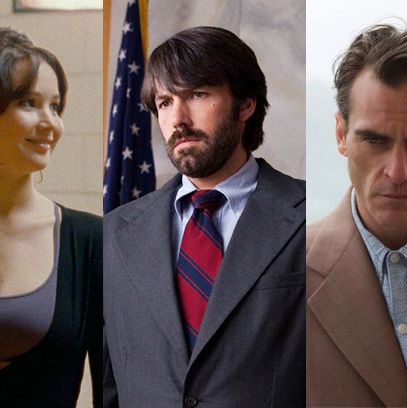 It still feels like a wide-open Oscar race this year — there's no steamrolling summer festival movie like The Artist, The King's Speech, or The Hurt Locker already out there dominating these things — and so the Toronto Film Festival's reputation as a major awards season launchpad seems more important than ever. Pundits have been here searching for potential breakouts over the past week, and though consensus can be hard to come by, there are three names that keep coming up over and over again in conversation. What three stars are ruling Toronto with their widely lauded work?
Jennifer Lawrence
If there's any category that's felt more wide open than Best Picture in this year's awards derby, it's Best Actress: You've got some worthy work from Quvenzhane Wallis (Beasts of the Southern Wild), Marion Cotillard (Rust and Bone), and Naomi Watts (The Impossible), but none of them have made the sort of noise that's usually afforded a frontrunner. That may have changed this past weekend, when Toronto audiences got a look at Jennifer Lawrence's ferocious performance in Silver Linings Playbook, David O. Russell's dramedy about a bipolar man (Bradley Cooper) who leaves the looney bin determined to win back his estranged wife, yet finds himself pursued by a blunt, sexually rapacious young widow played by Lawrence. Russell originally dismissed the 22-year-old Lawrence as too young for the role and went after actresses like Angelina Jolie, but when Lawrence was finally given the chance to Skype in her audition, she nailed it.
Silver Linings is a crowd-pleaser that could make a run for Oscar in several categories, but its best chance has got to be Lawrence. Almost every scene of hers feels like it could make for a juicy Oscar clip, and she has one barn-burner monologue late in the movie where she goes toe-to-toe with Robert De Niro and so thoroughly shuts him down that the audience at the premiere burst into theater-shaking applause once she finished. Her nomination, then, is a near-certainty, but Lawrence has got other factors that make her a real threat to win, too: She delivered a solid performance in one of the biggest blockbusters of the year, The Hunger Games, and the Oscar could be seen as a make-good for her nominated Winter's Bone role. Hollywood is incredibly anxious about growing bankable new stars, and this affords voters a chance to confirm Lawrence's place at the top and anoint her as their great new hope.
Ben Affleck
We told you that Silver Linings is one of the biggest titles here, but we've still spoken to a few dissenters. The Naomi Watts tsunami drama The Impossible has Toronto audiences weeping, but its few detractors are vocal. The only movie here that every single person seems to have liked across the board? Argo, the Ben Affleck–directed thriller about an unlikely real-life plan to rescue American hostages in Iran by mounting a fake movie production that the hostages can use as cover to escape. That's not to say it's everybody's No. 1 favorite, but after hearing it so many times on each festgoer's best-of list, we're more convinced than ever that Affleck will score a Best Picture nomination for it.
The actor-director just missed out on that laurel for The Town, but the sly Argo in-jokes about a very different town — Hollywood — will be catnip to Academy members, who may also nominate Alan Arkin's performance as a past-his-prime movie producer for Best Supporting Actor. Affleck's not likely to find traction himself as Best Actor, since he gives a pretty selfless performance as the lead in a wide ensemble (just look at the hairdo he was willing to saddle himself with!), but a Best Pic nod should more than make up for that snub, shouldn't it?
Joaquin Phoenix
The Master raked in awards at the Venice Film Festival, but the movie's been incredibly divisive here: Some Paul Thomas Anderson acolytes are thrilled by the large-scale, experimental moviemaking on display, while others have found it impenetrable or repetitive. (Our own David Edelstein was stymied at times by the film.) Still, whenever we've asked The Master's dissenters what they thought of lead actor Joaquin Phoenix, even they rave. As a war veteran in the orbit of Philip Seymour Hoffman's burgeoning cult leader, Phoenix looks broken open in every scene, sometimes literally: In many moments, he'll put his hands on his hips and hunch forward precipitously, perverting the "broken doll" pose of a fashion model.
Something this searing can't be easily dismissed, and so Phoenix is a sure thing bet to be nominated for Best Actor; his lunatic self-harm is so lacerating that Hoffman has been bumped to a supporting performance despite playing the title character. You worry for Phoenix, who also gave himself over totally to a real-life parody of himself for the misbegotten art project I'm Still Here, but at least he's since wrapped a Spike Jonze romance, which will hopefully include more sweet smiles and fewer instances of him slamming his head against the wall or cackling like a mentally disturbed dumb-dumb.