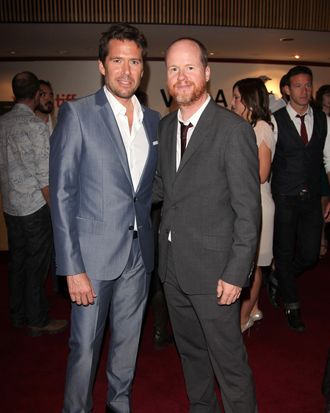 Alexis Denisof, Joss Whedon.
Photo: Sarjoun Faour Photography/Getty Images
Up at the Toronto Film Festival, Joss Whedon's low-budget film of Much Ado About Nothing has proved itself a surprise hit, winning a recent pick-up by Lionsgate. Still, to hear star Alexis Denisof tell it, Much Ado almost didn't make it to the big screen. "We were about halfway through the shoot when Joss said, 'This might be more than just an online release. There might be a movie here,'" recalled Denisof, who played Wesley on Whedon's TV shows Buffy the Vampire Slayer and Angel. The film was an outgrowth of Whedon's weekend Shakespeare readings, which the director likes to sprinkle with cast members from his small-screen efforts; in addition to a reading of Much Ado that paired Denisof and Amy Acker and eventually inspired Whedon to retain the two stars for his adaptation, Denisof said that he's taken part in a reading of Macbeth performed by James Marsters (Spike on Buffy), and even a run of Hamlet with Whedon himself in the title role.
Wait, what? The writer–director of The Avengers played one of Shakespeare's most famous protagonists? "He was an amazing Hamlet!" raved Denisof. "He was the definitive melancholy Dane."
When we later caught up with Whedon, he confirmed the story. "It was my devil's bargain, that if I did this for two years, one day I would get to be play Hamlet," laughed Whedon. "It was not only one of the greatest experiences of my life, but so instructive when it came from Shakespeare and  directing and acting. The biggest thing, which really informed Much Ado, is that Hamlet really is an ensemble piece that people mistake for a one-man show. He needs everybody in that play to bounce off of, and you'll see productions where they'll get a star to play Hamlet and these workmanlike people for everybody else, and they don't do the math to see that he's exactly as good as everybody around him."
In Whedon's version, then, he surrounded himself with Acker as Ophelia, Denisof as Claudius, actress Amber Benson (Tara from Buffy) as Gertrude, and another writer, Tim Minear, as Polonius. "It gave me the insight that I really needed to see how much an actor can give to another actor," said Whedon. "A lot of directors like myself, who let's say are 'control enthusiasts,' might not be willing to accept that."
Since then, Whedon has taped a guest spot on Husbands, a web series from his frequent collaborator Jane Espenson, confessing, "I've always had the [acting] bug. I do think it's actually useful for a director or writer to be a wannabe actor, because then you're thinking from that perspective when you're writing for them or telling them what to do. You know what their needs are in a way that you might not otherwise."
And will Whedon and Denisof work together again, now that Whedon is prepping a big-screen sequel to The Avengers (an unrecognizably masked Denisof had the small role of The Other in the first film) and a TV show about Marvel's peace-keeping S.H.I.E.L.D. organization? Denisof sure hopes so, claiming that when he's around Whedon, he likes to cough out, "S.H.I.E.L.D.AlexisDenisof." Laughed the actor, "I just don't want to push my luck, since he's been so good to me."