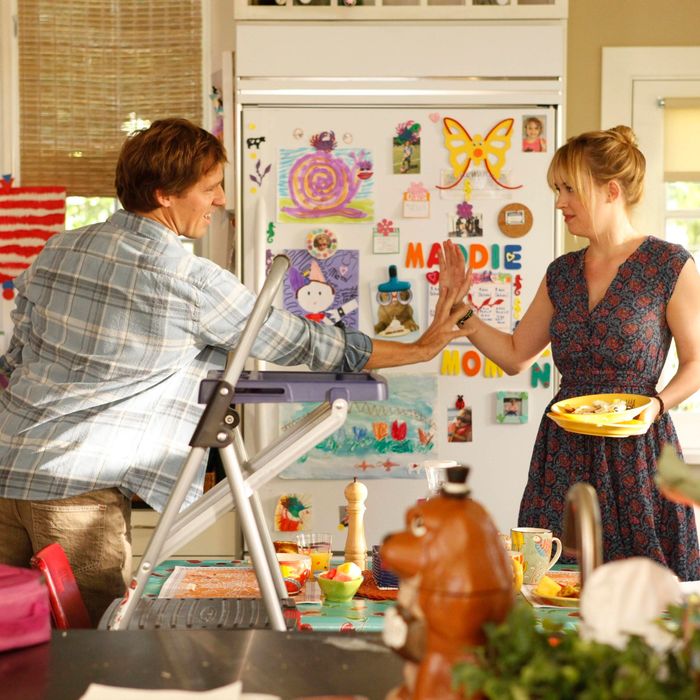 Fox might have missed the boat by calling its Tuesday night New Girl follow-up Ben and Kate. The network should have considered calling the latter New Guy, because it shares New Girl's belief that spacey, immature adults with zero impulse control are free-spirited, liberating life forces rather than deeply annoying and possibly disturbed.
That sounds curmudgeonly, granted, but Ben and Kate is enjoyable enough if you don't mind a severe case of the cutes. Created by screenwriter Dana Fox (What Happens in Vegas), this semi-autobiographical comedy is about the relationship between a bar manager and single mom named Kate (Dakota Johnson, Don Johnson and Melanie Griffith's daughter) and her nomadic man-child brother, Ben (Nat Faxon, Oscar-winning co-writer of The Descendants). Ben suddenly reappears in Kate's life to help her raise her adorable 5-year-old daughter, Maddie (Maggie Elizabeth Jones), and stalk an ex-girlfriend and crash her wedding. The latter would be pathetic and sinister in life, but this is a sitcom, so thanks to Ben and Maddie's comic surveillance and Nat Faxon's toothy boyish glee, it comes across as mere high jinks.
Lucy Punch is on hand as Kate's best friend, a British cocktail waitress who dispenses tough advice; Echo Kellum plays Tommy, Ben's friend and an enabler of some of his dumbest ideas. Jake Kasdan (executive producer of New Girl, not coincidentally) directed the pilot, which has his characteristic mix of snappy patter, slapstick, and Ron Howard–y warmth.
I'd be more enthusiastic about Ben and Kate if it didn't remind me so much of Kenneth Lonergan's 2000 drama You Can Count on Me, which likewise focused on a single mom (Laura Linney) and her disappearing-reappearing man-child brother (Mark Ruffalo).  That's not a fair comparison, I realize — Lonergan's film is muted and somewhat realistic, where Ben and Kate is a fast-paced single-camera sitcom — but since anyone who's seen that movie might make the connection themselves, I'm throwing it out there, if only to encourage the uninitiated to Netflix it.