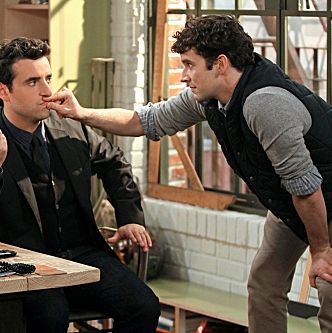 The CBS sitcom Partners (8:30 p.m.) is all about the friendship between Joe (David Krumholz) and Louis (Michael Urie). They're architects and business partners, and they've been best pals since childhood. Joe is straight and Louis is gay, and as written by series creators David Kohan and Max Mutchnick (Will and Grace), they're pretty much off-the-rack examples of straightness and gayness, network TV division. Joe is pleasant but brusque and direct, and uncomfortable with big displays of emotion; his speech has a somewhat flat inflection, he doesn't use his hands much when he talks, and whenever a gay man sends a bit of sexual innuendo his way, he gently deflects it, in a way that lets you know that he's not homophobic. Louis is emotional and demonstrative; he uses his hands a lot when he talks, he's neat and knows fashion and musicals (his dog is named Elphaba), and when he talks, the middles of sentences go uuuup, and the ends of sentences go uuuup too.
The fact that Joe has a girlfriend (Sophia Bush's Ali) and Louis has a boyfriend (Brandon Routh's Wyatt) is a part of the show — farcical/romantic complications ensue in tonight's pilot — but it isn't the entire show. That's a sign of cultural progress. So is the fact that a show like Partners can run on the same programming grid as Modern Family, Glee, American Horror Story, The New Normal, The Good Wife, and other modestly to aggressively LGBT-friendly shows, and be greeted with a collective shrug by critics. 
I can't be too hard on this show because (1) the lead actors are appealing and seem like they're actually friends, (2) their characters are unabashedly based on Kohan and Mutchnick (sorry, guys!), and (3) the pilot is helmed by master sitcom director James Burrows, which means it has Swiss watch timing and a dash of shtick. With its stock supporting characters (Ali and Wyatt are attractive blanks) and its lame central contrivance, this is not a great pilot, but it's far from an awful one. And with a timeslot this cushy — Monday nights between How I Met Your Mother and 2 Broke Girls — I can picture Partners becoming one of those "Seriously, is that still on?" shows, like Wings. Again, progress. Of a sort.
But seriously, TV, come on, now: I know I'm supposed to review the show that's in front of me and not fixate on some hypothetical show-that-might-have been, but can we please see a wider spectrum of LGBT characters on sitcoms — and straight male characters, for that matter? Not all straight guys love sports and beer and are terrified of expressing emotion. Not all gay men fall into one of two categories: thin/high strung/fashion forward/drama-queen-y or "Could pass for straight at a barbecue hosted by Craig T. Nelson."
If sitcoms must be based around types, let's see some new types. Let's see a show about the friendship between a conventionally gorgeous lesbian and a toadish straight dude. Or a pre-operative transsexual and a recently divorced single mom who's starting to wonder if she ever really liked men. Or a disorganized, fashion-challenged but brilliant bear and a metrosexual straight guy who hangs out with Kathy Griffin and subscribes to The Sondheim Review. Progress, as they say, must progress.