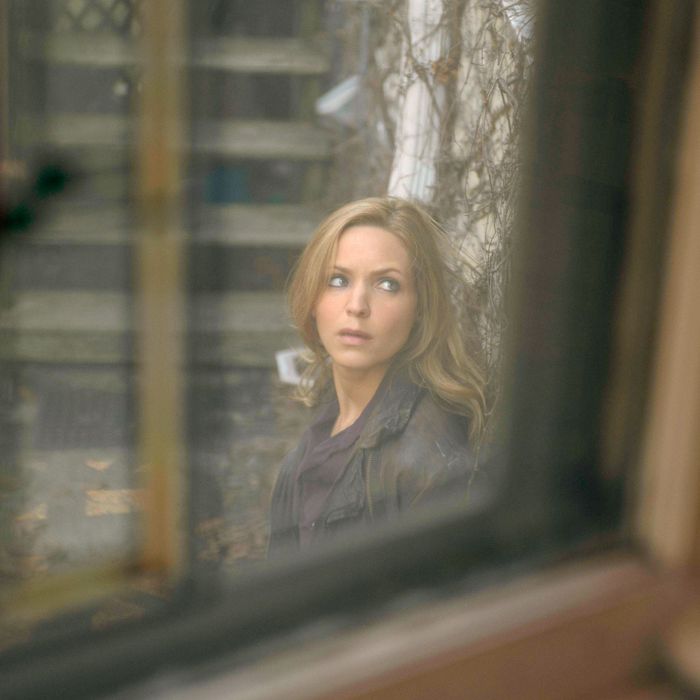 Photo: Nathaniel E. Bell/FOX
"I'm hearing bells," says a thug with an ice pick in his temple, lying on an operating table in the back of a veterinarian's office after-hours. "That's my cell," snaps his surgeon, Grace Devlin (Jordana Spiro). Because she's a surgical resident by day, she has to answer it. Ice-pick head can wait.
Grace is the title character of The Mob Doctor (which premieres tonight on Fox at 9 p.m.), a drama about a woman who was raised in a mobbed-up neighborhood on Chicago's South Side and never really escaped it. The pilot starts with a childhood flashback to the first time Grace saw a dead body, a murder victim lying in a weed-choked field. The rest of the hour builds on that image. Grace is drawn to death and torn flesh; it's what she saw, or at least knew about, growing up. Now that she's a surgeon, she can dig her fingers into incisions, stitch up wounds, cut out tumors, move organs around, save lives. She can control her youthful trauma, channel it, and make something positive from it.
Unfortunately, Grace's childhood roots run deep. To prevent her brother Nate (Jason Lee Soffer) from getting whacked for his gambling debts, Grace became a secret, off-the-books physician for his lender, a volatile swine named Paul Moretti (Michael Rapaport, a go-to actor for this kind of character). Paul is collecting on the debt with interest. In the pilot he calls on Grace to snuff out an FBI informant on the operating table at her hospital, using a syringe loaded with an injection that'll cause the patient to convulse and die.
Because Grace is a post-Sopranos protagonist, we aren't reassured that she'll do the right and noble thing. Her adherence to the Hippocratic Oath is counterbalanced by the need to stay alive and make sure no harm comes to her brother or their mother (Wendy Makkena), a widow with her own past entanglements. Grace can't go anywhere in this story without confronting her roots. She's sleeping with a fellow resident, Brett Robinson (Zach Gilford), but her previous boyfriend Franco (James Carpinello) is a rakishly handsome mob foot soldier, and his boss is a recently paroled Mafia kingpin named Constantine (the great William Forsythe) who pays Grace to administer his insulin injections. There's an arrogance to Grace that's more compelling for being expressed unconsciously, through impulsive acts that only seem righteous. One of her hospital improvisations is appalling, not just because it's a gross violation of medical ethics, but because it draws her boyfriend into a cover-up that could end both their careers.  When Grace tells Brett that "choice is a moving target" during a tryst, it's not just pillow talk. It's the statement that defines (and rationalizes) her life.
The Mob Doctor's pilot is stranded between quality cable nuance and broadcast network spoon-feeding. Some of the expository dialogue is bad even by Fox drama standards. ("I realize you're a South Side girl who became a big city doctor, but you are no better than anyone else here," a colleague snaps at Grace.) But there's a lot to like here: Spiro's old-movie toughness and understated glamour; the occasional shifts into subjective slow motion; Forsythe's silverback gorilla craftiness; a double-twist ending. The soundtrack choices are smart: Every pop song has at least two meanings. (My favorite is "You Really Got a Hold on Me"; it plays during the aforementioned sex scene, which is interrupted when Grace's criminal owners call her away.)
The Mob Doctor is created and written by Josh Berman (Drop Dead Diva, Bones) and Rob Wright (Drop Dead Diva, Crossing Jordan), showrunners who prefer dames to babes. Grace is a dame through-and-through, snapping out terse one-liners and striding through chop shops and hospital corridors with a gunfighter's gait that would make Raylan Givens's heart race. But more action-movie posturing is the last thing The Mob Doctor needs. The story is about trying to be a moral person in immoral circumstances while battling the childhood demons in your head. The deeper it dives into Grace's mind, the more special it will become.