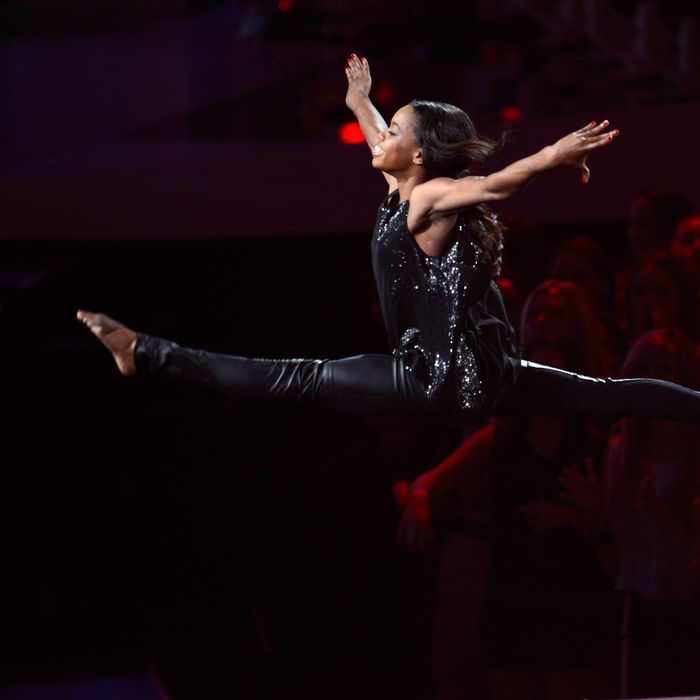 Gabby Douglas performs onstage while Alicia Keys sings during the 2012 MTV Video Music Awards at Staples Center on September 6, 2012 in Los Angeles, California.
Photo: Kevin Mazur/Getty
Last year, Beyonce and Jay-Z took the VMAs by storm with the surprise announcement — first on the red carpet, and then after a performance of "Love on Top" — that Mrs. Shawn Carter was pregnant. The camera cut to Jay grinning happily, while 'Ye freaked out next to him; Bey dropped the mic and rubbed her tummy. It was delightful — and, it goes with out saying, set a fairly high bar for VMA ceremonies to follow. So despite the best efforts of Amber Rose and Wiz Khalifa, who announced their pregnancy mid-show, with some incongruous cooing from Ke$ha, this year's VMAs did not quite live up to the Blue Ivy Extravaganza of 2011. Taylor Swift did not bring her high-school Kennedy boyfriend. Drake and Chris Brown did not reignite their bottle fight mid-show (though Kevin Hart did make a few jokes about that showdown — probably his edgiest material of the night). One Direction took home three awards, performed one danceless song, and continued to look like lost Shiba Inu puppies. Frankly, the ceremony was kind of boring, as if the kids knew they should behave so as not to steal the thunder from the President come 10 p.m. But we still all watched! So let's break it down.
Kevin Hart: Not Afraid to Stand Next to Really Tall Men
After a non-hosting appearance at last year's VMAs, Hart was promoted to leading man status, and he took the Aw, Dad approach — mostly goofy wordplay (an extended "The Words" / "Oh, word" bit) and skits in which he wore silly costumes (Buckingham palace guard; leprechaun). But we will say this for Hart: He is not a tall man, and he agreed to stand next to 2 Chainz and Dwight Howard within a span of twenty minutes. He even let Dwight Howard put on a Lakers shirtdress. That is brave.
Frank Ocean's Startlingly Simple "Thinking 'Bout You"
It is not as if we expect Frank Ocean to launch himself out of a cannon or perform "Sweet Life" with a boa constrictor draped upon his shoulders; Ocean is a quiet man, and a reluctant performer. But his acoustic version of "Thinkin 'Bout You" was restrained even by Frank Ocean standards — and unexpected at the shitshow that is VMAs. His space jungle (with bonfire) won the Cool Hangout award for the night, though.
The Enduring Friendship of Rihanna and Katy Perry
Without fail, the most entertaining aspect of the VMAs (aside from the pregnancies and the interruptions, etc.) is the reaction shots, and your Side-Eye Champions of the evening were BFFs Rihanna and Katy Perry. At one point, Katy started singing "What Makes You Beautiful" in Rihanna's ear, and then she got the words wrong. It was adorable.
Pink Is Still Using Those Trapezes
And a Cirque du Soleil moment is now apparently a requirement for all awards ceremonies in 2012. Your move, Emmys!
Gabby Douglas Totally Showed Up for That Alicia Keys Song
On Tuesday, Vulture wondered whether the Gabby Douglas mention in the Nicki verse on Alicia Key's "Girl on Fire" would result in a handspring-filled VMAs performance. And swear to God, it did. Gabby Douglas really did show up to do some cartwheels. Synergy (and MTV programming) at work, everyone.