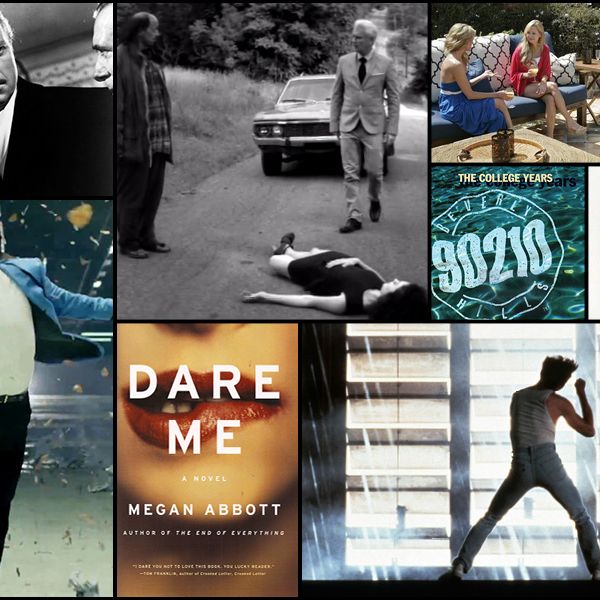 For years, our sister site Daily Intel's "Sex Diaries" has published the weekly logs of an eclectic group of people's every sexual thought and act. Here at Vulture, we get off on entertainment, so we've taken a different, less graphic tack: For our recurring feature "The Vulture Diaries," we will be asking prominent creative types (authors, directors, actors, musicians, etc.) to keep track of their cultural consumption in a given week. This week, we have author Emma Straub, who, in addition to having recapped Girls for us earlier this year, has also just published the novel Laura Lamont's Life in Pictures. 
Day One
9:05 a.m. Am reading my dear friend Edan Lepucki's nearly 400-page manuscript, which is completely engrossing but extremely unwieldy to carry around, so I had to choose a new book to tuck into my bag. I know I'd be running around all day, so I picked the new issue of Tin House.
9:20 a.m. My husband and I hop in the car to zip up to Greenpoint, the Sirius radio tuned to my one of my favorite stations, Soul Town. Bobby Womack, "Across 110th Street"; The O'Jays, "Back Stabbers."
10 a.m. Breakfast with friends. A brief list of topics discussed: the disappearance of Logan Echolls; the marriage of Eric and Tami Taylor; Gillian Flynn's Gone Girl; the films of Paul Thomas Anderson. If anyone asked me, which they haven't, I would rank his films thusly: (1) Boogie Nights (2) Magnolia (3) There Will Be Blood (4) Punch Drunk Love. I haven't seen Hard Eight, but my husband says he thinks it belongs between Blood and Love. I very much expect The Master to hover close to the top of this list.
7:11 p.m. Tuned into one of my other favorite Sirius channels, the '90s on 9. Bell Biv Devoe's "Do Me," Wilson Phillips' "Release Me," Poison's "Unskinny Bop."
8 p.m. Breaking Bad season finale. This show really is a marvel. I simultaneously root for Walter White and for Hank. I haven't felt this torn since Stringer Bell and Jimmy McNulty.
9:05 p.m. How better to end the day before my book launch than spending some time with my favorite reality-TV show, Bachelor Pad? Bonus: I finally realized who one of the women on the show reminds me of — Hatchet Face, from John Waters's Cry-Baby. I hope he's watching this show.
9:20 p.m. An article on dance competitions in the New York Times. Reminds me of Megan Abbott's excellent novel Dare Me, which exposes the muscled, disciplined, and psychotic molten center of a high-school cheerleading squad.
Day Two
9:15 a.m. Checking e-mail and tweets and Tumblr and Facebook — it's my book's pub date, so there's a lot to catch up on. Meanwhile, I'm watching Tyra Banks terrorize some skinny college girls on the new season of America's Next Top Model. Sample quote during a faux-taxidermy photo shoot: "You need a dead smize, not an alive smize."
9:29 a.m. Work on a piece for Rookie, and yelp with joy when I realize that I get to include a reference to Jennifer's Body, Diablo Cody's woefully underappreciated film.
11a.m. Read Jezebel, listen to the new Cat Power album, Sun. Read very sad Times article about the increase in elephant poaching. Consider adopting a pet elephant.
12 p.m. Read the issue of Tin House on the subway to and from the Leonard Lopate show. In addition to Adam Wilson's story, which was as raunchy and funny as I anticipated, I also read Cheston Knapp's essay on wrestling in rural Oregon.
6:15 p.m.  Merge Records party in the East Village. Topics discussed: David Byrne, David Byrne on a bicycle, David Byrne's hair, breast-pumping in Kareem Abdul-Jabbar's dressing room at the Letterman show.
8 p.m. Housing Works Used Book Café for Dan Wilbur's party and comedy show celebrating his new book, How Not to Read. Came in during Elna Baker's hilarious Mormon coming-out story (coming out to her parents as a twentysomething non-virgin), stayed for Chris Gethard's terrible–wonderful story about being newly single and having panic attacks and getting his second Smiths-themed tattoo.
10:30 p.m. Read some more of Edan's giant manuscript. It's really good.
Day Three
8:57 a.m. Read David Carr's New York Times review of Errol Morris' new book, A Wilderness of Error. David Carr + Errol Morris = Love.
9:06 a.m. Somehow I have already fallen far enough down the Internet hole to have watched not only Korean rapper PSY's "Gangnam Style" video twice, but also Scooter Braun's video announcing their partnership. Surely I can't be the only one envisioning a future Bieber–Psy world tour and collaboration. Right?
10:22 a.m. Speaking of David Byrne, good God, I love the new video he made with St. Vincent. If I could dance like anyone in the world, I would choose David Byrne.
11 a.m.–5 p.m. Drove around to bookstores to sign stock. Here's what I listened to on the radio: Billie Holiday, The Supremes, Justin Bieber, Gladys Knight and the Pips, Taylor Swift. I sang along to every single one. Here's what I bought at the bookstores: David Rakoff's Half Empty (Watchung Booksellers, Montclair, NJ), the Rough Guide to Mallorca and Menorca (Three Lives and Company, NYC), Marie-Helene Bertino's Safe as Houses (NYU Bookstore, NYC), Robert Sullivan's My American Revolution (Greenlight, Brooklyn), and Richard Lloyd Parry's People Who Eat Darkness (Community Bookstore, Brooklyn). The first one I will actually read is the guidebook, because my next novel takes place in Mallorca, and I've never been.
6 p.m. Watched Andy Roddick lose his final match in the U.S. Open. Officially retired from professional tennis. He wept. His model wife wept. I think McEnroe was feeling it, too. There's an idea! Why not put Roddick in the booth with Johnny Mac? (That was actually my husband's idea, but I'm behind it a thousand percent.) You were good, Andy, and I'll miss rooting for you.
6:42 p.m. We are so delirious from our day of driving around that my husband has started to serenade the world with Marky Mark and John C. Reilly's song from Boogie Nights. "You got the touch, you got the power … "
7:30 p.m. Party for the new issue of Tin House. Adam Wilson and Hannah Tinti read and are wonderful as always. I am dead on my feet, and have to sneak out early. Actually asleep before 10 p.m. 
Day Four
7:45 a.m. Reading through the news online. Watched Clinton's DNC speech on YouTube. Saw a picture of grown-up Emily Dickinson on the New York Times site, and then read a profile of Joaquin Phoenix. Looked at a slide show of B.D. Wong's apartment, and now would like lettering on all my doors. Catch up on yesterday's Rookie posts: Amy Rose Spiegel on literary hoaxes and Pauls Toutonghi on teenage nihilism.
10:15 a.m. Watch Kay Thompson sing "Think Pink" from Funny Face in order to calm down.
2 p.m. Read the table of contents in the new New Yorker. Now it goes on the pile for a month or so.
2:41 p.m. Read Zadie Smith's profile of Jay-Z (!!!) in the Times Style Magazine online. I have just died from acute coolness and may never recover.
2:57 p.m. Accidentally (okay, on purpose) watched a preview of the finale of Bachelor Pad. I'm calling this one now: Stagliano is totally going to propose. Surprise proposal. I love it, in advance.
3:50 p.m. Read some more of Edan's book. Tried on all my clothes.
4:47 p.m. Officially too anxious about my book party to do anything.
6 - 9:30 p.m. Head to BookCourt for my Laura Lamont's Life in Pictures launch party. Hundreds of people, 2.5 cases of pink champagne, hundreds of bratwurst care of the Meat Hook. Signed lots and lots of books. A totally warm and fuzzy blur.
Day Five
7:59 a.m. E-mail from The Paris Review promises a sestina by Maira Kalman and Daniel Handler in the next issue, and if I didn't have a love/champagne hangover, I might actually jump for joy.
8:16 a.m. Nooooooooo Amy Poehler and Will Arnett. Us Weekly online. Then spiral downward into Molly Lambert's gossip mag round-up on Grantland. Turns out that Kirsten Dunst also loves The Bachelor, which makes me feel much better about the whole thing.
8:41 a.m. Read the latest in the fabulous Scandals of Classic Hollywood series on the Hairpin, this one about the "the long suicide of Montgomery Clift."
11:45 a.m. Finished Edan's book on the train en route to the Martha Stewart Sirius BookTalkRadio show. After our interview, they played the Magnetic Fields' "Luckiest Guy on the Lower East Side" as my fade-out music, which I absolutely loved.
3 p.m. Just in time, two new galleys have arrived for me to read! Jessica Francis Kane's collection of stories, This Close, and Jennifer Gilmore's The Mothers. Can't wait to read them both. In fact, why not start right now?
4:45 p.m. Leafed through the new special issue of Domino magazine. I need an heirloom Murano glass chandelier, some Osborne and Little "Cornonata Star" wallpaper, and a "Dromedary Loveseat."
6:15 p.m. Went to a party for a new online literary magazine, Bodega. It's really nice to hear poems read out loud. Note to self: Read more poetry. Read the first story in Jessica Francis Kane's collection en route to the next party.
Day Six
9:14 a.m. I love the weekend, because the actual paper comes. I read the "Book Review" first, then the "Real Estate" section, then "Arts + Leisure." Automobiles goes straight into the recycling bin. Does anyone actually read that part? I save the magazine for later. Enjoyed the article on Dana Fox and Liz Meriwether — I love that there's this crew of female TV show creators right now. I want them all to be wildly successful and live next door to each other and have pool parties every weekend. I would also like to be invited to said pool parties. As Beyoncé says, "Who runs the world? Girls!" And you do not want to contradict Beyoncé.
10:19 a.m. The Cars, "Magic"; Tom Petty and the Heartbreakers, "Breakdown"; The O'Kaysions, "Girl Watcher."
10:53 a.m. Discussed over brunch at the Roebling Tea Room: Mad Men, Mad Men getting rick-rolled, the Passion Pit song in the new Taco Bell commercial.
1 p.m. Screening of Citizen Kane at Film Forum. Three rows behind me, a crew of teenage boys debate Shakespeare before the movie started, discussing the homoeroticsm of The Tempest and the unlikeability of the characters in Romeo and Juliet.
6:57 p.m. New York Times profile of Proenza Schouler. I have a bad habit of reading everything in the Sunday paper before it shows up at my house. Observed Lena Dunham's cute haircut on Twitter. Watched ten minutes of a rebroadcast of the MTV Video Music Awards, which I always loved as a child. Now they just seem loud and disorganized. I lingered long enough to catch a glimpse of Taylor Swift, who is my soul sister, even if she doesn't know it.
Day Seven
9 a.m. SoapNet plays back-to-back episodes of Beverly Hills 90210 on Sunday mornings. Right now we're early into the college years, which means that Donna is still a mostly cute blonde, the tempestuous Brenda is on her way out, and Brandon is still the biggest tool in the toolbox. (That is never not true.)
9:25 a.m. Watch some Busby Berkley clips on Tumblr while coveting Brenda's babydoll dresses. My friends at the Community Bookstore in Park Slope tweeted an article about an imaginary bookstore in Japan. Gives me ideas about how to maintain my bookseller status while on the road. I leave for Seattle early tomorrow morning, and the rest of the day is going to be mostly getting ready — laundry, cleaning the house, petting the cats. Spend a few minutes on real estate websites looking at houses in Los Angeles, just in case.
7-9 p.m. Rookie Yearbook Release Party and Greatest Teenage Feminist Rally of All Time at McNally Jackson bookstore. Tavi came dressed as the witchier version of the childlike empress of The Neverending Story. Observed Lena Dunham's cute haircut in person. Had so many feelings of togetherness and love and girl power TO THE EXTREME. There could not be a better way to end the week. Rookie 4 life.
10:09 p.m. Except that I actually ended the week by watching some of Footloose on TV. Ariel Singer's wardrobe is 300 percent better than Julianne Hough's in Craig Brewer's remake, but otherwise, I have to say, the new version might be a better movie. That one isn't on, though, so it's just me and Dianne Wiest until I pass out/finish packing. Oh god, and Chris Penn. Once I saw Chris Penn sort of shambling down the 3rd Street Promenade in Santa Monica at about ten o'clock at night and he was wearing a track suit and these bros seemed to recognize him, and he stopped and stuck out his hand and said, "Chris Penn," and talked to them, and I just wanted him to be young and healthy and funny and to dance with him all night long. RIP Chris Penn.