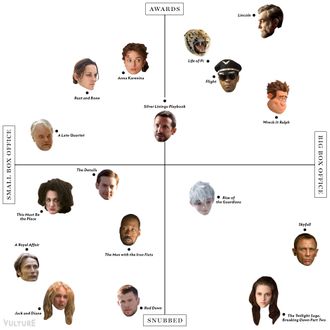 Now that summer movie superheroics have subsided, it's time for a very different season. Which movies look like awards stalwarts, which films might be box office gold, and which might be both (or neither)? Vulture's gone through the release schedule and plotted the films out month by month on a handy fall preview grid, so you can check out all the potential over- and under-performers at a glance. We've already looked at September and October, and today we'll investigate November, where we've got movies with Denzel, Kristen, and Daniel.

Click on the graphic above to enlarge, and then we'll tackle the month quadrant by quadrant.
Now we're talking! November truly spreads the wealth, giving us plenty of movies in every spot on the grid. As always, we'll start with the lower-left corner, which is filled with this month's smaller movies. And we've got an eclectic bunch. There are two unlikely romances: the teen lesbian werewolf flick Jack and Diane (with Juno Temple and Riley Keough) and A Royal Affair, which stars Mads Mikkelsen and Alicia Vikander as a physician and the Queen of Denmark, who embark on an affair. You've got Sean Penn in This Must Be the Place, where he plays a Robert Smith–type rocker who goes hunting Nazis. (As one does.) For fans of straight-up action, there's RZA's martial arts flick The Man With the Iron Fists, costarring Russell Crowe, and the long-delayed Red Dawn remake, which sets Chris Hemsworth and Josh Hutcherson as two young Americans defending a small town from invasion. Another movie finally coming off the shelf: the Weinsteins' delicious black comedy The Details, with Tobey Maguire as a suburban liar who gets drawn into a web of deceit after he becomes obsessed with clearing his backyard of raccoons. (You just have to go with it.) In a perfect world, Laura Linney's insanely funny supporting turn in this would be getting awards buzz, but it's hard to tell whether the studio will simply dump it and move on to more high-profile product.

Above that quadrant, we've got significantly more awards-friendly movies than September and October. A Late Quartet has actors like Philip Seymour Hoffman, Catherine Keener, and Christopher Walken as members of a string quartet navigating a whole lot of internal drama, while Rust and Bone casts Marion Cotillard as a disabled whale trainer finding love, and it's likely that Cotillard will find her performance heavily rewarded. Keira Knightley, too, is an awards threat for an audacious new take on Anna Karenina, though the sumptuous production design is an even better bet. And then there's Silver Linings Playbook, with Bradley Cooper and Jennifer Lawrence playing two cuckoo types who fall in love under the director of David O. Russell. The trailer looks agreeable and mainstream, but considering the awards season bona fides of all involved, it could surprise.

And then there are the movies that can't be considered "surprising" simply because they're already arriving with a whole lot of expectations. The upper-right quadrant has been pretty barren until now — there haven't been too many awards season threats that also look like box office hits in waiting — but chief among this month's crop is Lincoln, where Steven Spielberg directs Daniel Day-Lewis as the Great Emancipator. Sight unseen, it's the biggest Oscar frontrunner just on the strength of those two men. There's also incredible buzz on Life of Pi, Ang Lee's 3-D adaptation of the bestseller with an unlikely premise: A kid and a tiger share a small boat, and adventures ensue as one tries not to get eaten. Two other movies in this quadrant have us crossing our fingers, too: Flight, which returns director Robert Zemeckis to live-action in a drama casting Denzel Washington as a troubled airline pilot, and animated video game spoof Wreck It Ralph, which could be a Best Animated Film contender.

As for this month's box office blockbusters, finally we've got a few that can really lay claim to that title. Yes, there's the animated Rise of the Guardians, where Chris Pine and Alec Baldwin play holiday figures like Santa Claus, but let's focus on the big guns, shall we? There's Skyfall, which is just the latest James Bond flick, though it boasts two promising additions in director Sam Mendes and antagonist Javier Bardem (in a scary blond coif … is anyone able to invest dorky hairstyles with more menace than Bardem?). And you've also got The Twilight Saga: Breaking Dawn Part Two, which will reunite tabloid twosome Kristen Stewart and Robert Pattinson for the last time, and no doubt break box-office records in the process. On-screen, at least, their love is eternal.