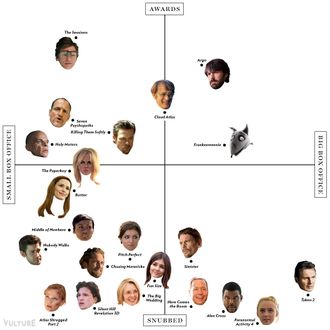 Now that summer movie superheroics have subsided, it's time for a very different season. Which movies look like awards stalwarts, which films might be box office gold, and which might be both (or neither)? Vulture's gone through the release schedule and plotted the films out month by month on a handy fall preview grid, so you can check out all the potential over- and under-performers at a glance. We've already looked at September, and today is October, where we've got movies with Liam, Nicole, and Ben.
Click on the graphic above to enlarge, and then we'll tackle the month quadrant by quadrant.
Things are getting a little more interesting in October, but let's start with the overcrowded lower-left quadrant of movies that may bring in smaller returns both at the box office and on the awards circuit. We've got some more film festival product here: Infidelity drama Nobody Walks (starring John Krasinski and co-scripted by Lena Dunham), the acclaimed Middle of Nowhere about a prison wife finding her strength, political comedy Butter (with Jennifer Garner as an unholy hybrid of Michelle Bachmann and Hillary Clinton), and of course, future camp classic The Paperboy, wherein Nicole Kidman pees on Zac Efron. She might see some awards action for her committed performance, but don't expect any such accolades from the weak-looking horror entry Silent Hill Revelation 3D, the Ayn Rand sequel Atlas Shrugged Part 2, or even The Big Wedding, though it stars Diane Keaton and Robert De Niro; that one is a dire-looking marital comedy co-starring Katherine Heigl. We do hold out hope for Anna Kendrick's a cappella comedy Pitch Perfect and the teen comedy Fun Size (which marks Gossip Girl guru Josh Schwartz's feature directorial debut), and we have our fingers crossed for the Gerard Butler surf drama Chasing Mavericks, simply because it was directed by Curtis Hanson (L.A. Confidential).

Let's take a look at the quadrant above that for some headier fare, shall we? There we've got Cannes favorite Holy Motors, where Denis Lavant dons a series of surreal disguises to romance Eva Mendes and Kylie Minogue; it's not going to be a huge box office hit, but critics will flip. Seven Psychopaths stars Colin Farrell, Sam Rockwell, and Woody Harrelson in a black comedy about a dognapping, and the supporting performances are earning major buzz, while Brad Pitt stars in the crime drama Killing Them Softly, a downbeat flick that will nevertheless grab some initial coin in wide release. Most promising is The Sessions, which stars John Hawkes, Helen Hunt, and William H. Macy in the story of a disabled man who hires a sex surrogate to relieve him of his virginity. Expect all three to factor into the Oscar nominations.

And then there's Cloud Atlas, straddling the line between a hit and a flop. It could be either, and that's what makes us excited; the Wachowskis and Tom Tykwer (Run Lola Run) shot for the moon on this movie, which casts Tom Hanks and others as several different characters learning about love in a variety of eras, and we need more of that at the multiplex. Safer bets to hit big are Tim Burton's stop-motion comedy Frankenweenie and Argo, Ben Affleck's follow-up to The Town, a thriller about a fake movie production concocted in the seventies to secretly shuttle hostages out of Iran. That one could be a Best Picture player, if the buzz holds.

As for that lower right quadrant of hits destined to go without trophies or critical plaudits? The Ethan Hawke horror pic Sinister will be the best received; less so Kevin James's MMA comedy Here Comes the Boom and the thriller Alex Cross, starring Tyler Perry in a rare straight role as the James Patterson franchise detective and a truly striated Matthew Fox as his adversary. And which movies do we expect to dominate the October box office? A pair of no-brainer sequels: Paranormal Activity 4, and Liam Neeson's returning actioneer Taken 2.