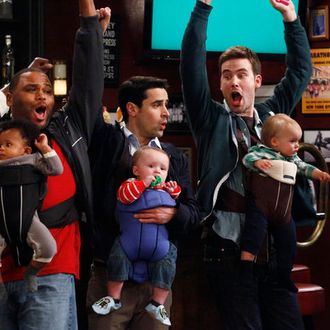 Jimmy Fallon is, by all accounts, one of the the most likable guys to ever shove his face in front of a TV camera. We said so in print just two years ago. But some shine may have come off Mr. Congeniality last night with the premiere of Guys With Kids, an NBC sitcom that has received largely negative reviews. (Our TV critic is a rare, if hesitant, fan.) If Guys With Kids gets canceled, it'll allow Fallon entry intro a small club of funny, likable, critically adored people who've created ham-fisted, unliked, critically panned projects that make you question everything you've ever laughed at. Just like these guys:  
Mel Brooks
The show: The Nutt House (1989)
The idea: A bunch of kooks, led by head kook Cloris Leachman, make fools of themselves while running a down-and-out New York hotel.
The problem: Two years after Spaceballs, Hall of Fame belly laugher Brooks came out with a show that, as this very magazine put it in 1989, "wastes Harvey Korman and Cloris Leachman and is, perhaps, no better than we deserve or expect from Mel Brooks." Only five episodes aired.
Johnny Carson
The show: Mr. President (1987)
The idea: A behind-the-scenes look at the family life of the president (George C. Scott) and the first family.
The problem: When NBC turned Carson down, he took his show to Fox, which paired it with The Tracey Ullman Show for a wildly unsteady Thursday night. Problem was, as the L.A. Times said, Mr. President was "more softcom than sitcom." Of course, the bizarre programming strategy that had the show on once every hour in prime time could have had something to do with its eventual impeachment.
Eddie Murphy
The show: The Royal Family (1991)
The idea: An Atlanta mailman (Redd Foxx) and his wife (Della Reese) have their peaceful retirement years interrupted when their daughter and her three kids move in.
The problem: Perhaps it's not fair to blame this on Murphy so much as on mortality. The show that was supposed to revive Foxx's career did just that until he suffered a fatal heart attack on set. That's when things went wrong. Short-lived plans to end the show gave way to a new plan — adding Jackee. When The Royal Family came back, the viewers didn't and it was soon canceled.
Jerry Seinfeld
The show: The Marriage Ref (2010)
The idea: A panel of comedians play marriage counselor to real-life couples.
The problem: The only thing worse than listening to loveless couples bicker about something tedious is following it with a panel of goofball judges halfheartedly making fun of them.
Roseanne
The show: The Jackie Thomas Show (1992)
The idea: A former blue-collar dude (Tom Arnold) gets his own sitcom and runs it like a petty tyrant. 
The problem: As one critic who later received a profanity-filled fax from Roseanne put it, "Roseanne-and-Tom Arnold are never less funny than when cracking themselves up with each other's excesses, and rarely have they been as indulged as in The Jackie Thomas Show, TV's biggest ego trip since the Ross Perot Show." The show was initially a ratings hit, thanks in part to the direct lead in from Roseanne and the then-revolutionary hot switch. Once complaints from affiliates led ABC to reinstate commercials between shows, the ratings fell and the show was canceled.
Conan O'Brien
The show: Lost (2001)
The idea: A reality show, not a comedy, and the first non–Late Night production from O'Brien's company, Conaco. Three two-member teams of strangers were dropped in the middle of Mongolia, blindfolded and with no money, and had to figure out where they were and then get themselves back to New York.
The problem: It premiered on NBC on the same night as CBS's The Amazing Race, which had a similar premise but with a crucial difference: Race was fast-paced, with many teams and constant creative challenges. Lost involved desperate people at their wit's end, very slowly and often cluelessly making their way across the globe. An oddly grim extracurricular project branded with Conan's name; one kept expecting (or hoping for) the Masturbating Bear to parachute in on a rescue mission. It was canceled after just five episodes.