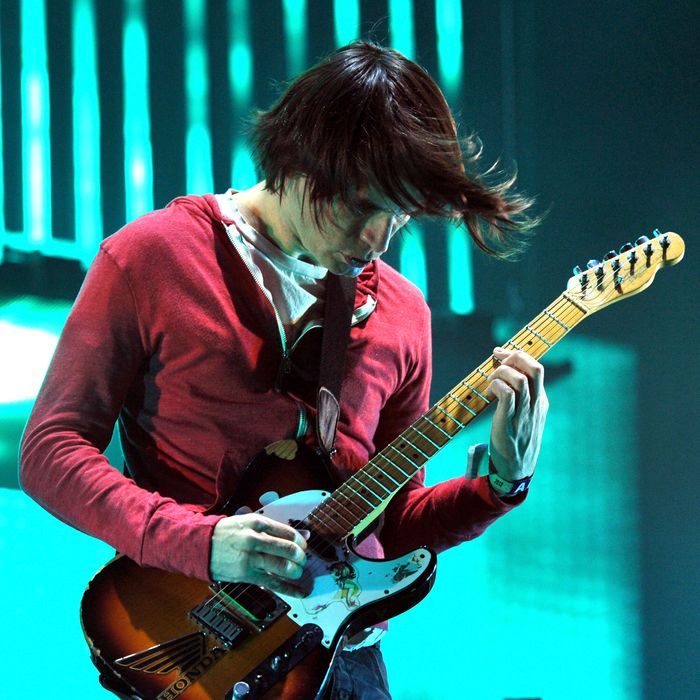 Photo: Kevin Winter/Getty Images
Once again, with The Master, director Paul Thomas Anderson has tapped Jonny Greenwood to provide the score for his latest film. Once again, Greenwood has composed an instrumental work that is sometimes gorgeous, at other points foreboding, and often both of those things at the same time. And once again, it's possible that Greenwood will not be eligible to receive — or even be nominated for — an Oscar for Best Original Score.
Because, as with his work on 2007's There Will Be Blood, Greenwood has repurposed bits of his music that have already appeared in other orchestral pieces, which he composes while on leave from his day job as a guitarist in Radiohead. (I wrote about Greenwood's "classical" music at length last year.) The Oscar rules for this category are explicit about not being down with that sort of double dipping. Rule 15 uses phrases such as: "written specifically for the motion picture," "must be recorded for use in the motion picture prior to any other usage," and "scores diluted by the use of tracked themes or other preexisting music … shall not be eligible." It's all pretty clear.
As I listened to my promotional copy of The Master soundtrack a couple of weeks ago, I immediately thought, This indeed sounds very Greenwood-y. Soon, I realized that the reason part of the soundtrack seemed more familiar than expected was because two of its tracks were derived from another recent Greenwood piece, "48 Responses to Polymorphia," which premiered in 2011 and was released on CD by Nonesuch Records earlier this year.
Those two soundtrack movements — titled "Overtones" and "Baton Sparks" – contain music that, either in whole or in part, is identical to material from that prior Greenwood orchestral essay. Just how much? A little over four minutes and fifteen seconds, by my count. The version of "Overtones" on The Master starts out differently than the similarly titled track on "48 Responses," but the final minute and 53 seconds (of 2:20) is identical on both tracks. "Baton Sparks" seems to be written out entirely the same, for the duration of its two-minutes-and-change running time (though the performance for the film is subtly different than that on the first recorded version). On the official soundtrack, there's another 31 minutes of music that will be totally unfamiliar to Greenwood diehards — much of it instantly memorable, and easy to discern as some of the best music composed for cinematic use so far this year.
As for the music that was written before the film, there's nothing under the table at work here; both tracks in question on The Master's soundtrack bear identical titles to their corresponding movements in "48 Responses to Polymorphia." And, when looking at album details on the Nonesuch website, you can see that in both cases, the music was played by the same ensemble, the AUKSO Orchestra, and recorded by the same engineers in a Krakow, Poland, studio.
According to this Variety story about the disqualification of Greenwood's work on There Will Be Blood, less than half of that movie's total score (as provided to the Academy of Motion Picture Arts and Sciences) was derived from "Popcorn Superhet Receiver," a previously existing Greenwood work. Yet that was enough to bounce it from consideration. So just because that is somewhat less the case with The Master doesn't mean the Academy might not also deny this score a chance to be voted on. Reached for comment on Thursday, an AMPAS spokesperson told Vulture: "The Academy cannot comment on the possible eventual eligibility of works — all eligibility issues relating to Music will be determined solely by the Music Branch Executive Committee later in the year."
There's a strong case waiting to be made on behalf of The Master and its score, on more than just aesthetic grounds. Nine out of the eleven Greenwood originals on The Master's soundtrack album (there are also four non-Greenwood pop songs on it) bear no resemblance to the prior orchestral work. And there's more than enough excellent new music in this half-hour — from the vertiginous organ, woodwind, and string ostinatos in "Alethia" to the percussive effects put to use on "Able-Bodied Seamen" — to justify an Academy Award nod. (The Hollywood Reporter has already called Greenwood's score a "frontrunner" on a "forecast" page maintained by Scott Feinberg.)
Which is why The Master's producers and its distributor, that old Oscar campaign pro the Weinstein Co., should start their attempt to appeal the seeming inflexibility of these rules sooner rather than later. (Following the initial posting of this article, The Weinstein Company responded, "The score for The Master is clearly eligible for Academy Award consideration. It is composed almost entirely of original, new music written by Jonny Greenwood specifically for the film.")* The previously referenced Variety story reported how, last time around, Greenwood's collaborators were caught "entirely off guard" at the end of the calendar year and were left wishing that they had "enough time to properly appeal" the ineligibility ruling regarding Greenwood's own past music, before ballots were sent out. This time, no one will be able to claim surprise.
Anderson presumably decided that he really did need those stray cues from "48 Responses to Polymorphia" — even if, in the case of "Overtones," it seems Greenwood also wrote some new material for the film based on the prior piece's frequently appearing leitmotif (in which a dollop of C-major alternates with a thicker, tonally ambiguous chord). Still, the director asked for this music anyway, most probably because he thought it was the best thing for the movie itself. Now it's up to the Academy to decide whether that's the sort of creative practice it prefers to celebrate or ritually ignore.
* This article has been updated to reflect comment from the film's distributor.