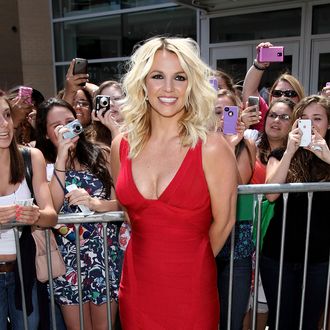 Photo: Marc Andrew Deley/2012 Marc Andrew Deley
We guess this is a reason to set your DVRs? Halfway through tonight's slickly produced X Factor season opener, which Vulture watched at the show's Hollywood premiere on Tuesday, Britney Spears becomes disturbed. Like, really disturbed. Producers planned it this way, of course. In walks Don Philip, a young man she worked with a decade ago, and with whom she even recorded a song for her first album …Baby One More Time. He's now 32, a vocal instructor, and looks more nervous and anxious than he should be to reunite with Britney; she recognizes him immediately and greets him with a smile.
But as he begins talking about a career that went awry and the hardships he's endured over the years, things get awkward. We start to cringe when he mangles a performance of Beyoncé's "Halo," because this is not a guy who was put in for laughs. Simon, blunt as ever, delivers the bad news (he shouldn't sing anymore), and when Britney tries to delicately tell him that his voice is "not up to the bar" set by X Factor, Philip is shocked, teary, humiliated. What follows is a mix of shots: him crumbling to the floor backstage, crying and apologizing that he had let down Britney, and Britney sitting quietly, looking actually shaken but somehow frozen in place. How did that happen? Did all three of her conservators approve of this surprise? Maybe she knew he was coming, maybe she didn't, but her reaction to his breakdown was a rare unscripted moment for Britney, and super uncomfortable to watch. (You know how concerned we have been about this!)
And there's more. There was a bit we didn't see in tonight's episode: People.com reported on Philip's audition back when it was filmed in June; the singer used the opportunity to come out. According to the site, Philip was "charged with emotion" when he explained to Britney why he never told her he was gay. "At the time, I didn't think I was worthy," he said. "I didn't think you thought it was okay that I am gay." Britney told him, "I think it is fine you are gay." None of that made it into tonight's episode.