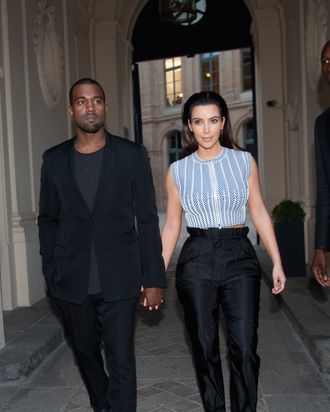 Singer Kanye West and Kim Kardashian are seen leaving the Louis Vuitton aftershow new boutique opening on July 3, 2012 in Paris, France.
Photo: Trago/FilmMagic
TMZ got its hands a 30-second clip of "Clique," the upcoming G.O.O.D. music track featuring Kanye West, Jay-Z, and Big Sean, and it includes the following 'Ye lyric: "My girl a superstar all from a home movie." (Yeah, that one.) How do you think that conversation went down, exactly? Is Kim Kardashian just like, Sure, baby, what's mine is yours, including that sex tape? Or is Kris calling Kanye at DONDA headquarters and bullying him into more shout-outs? Discuss.