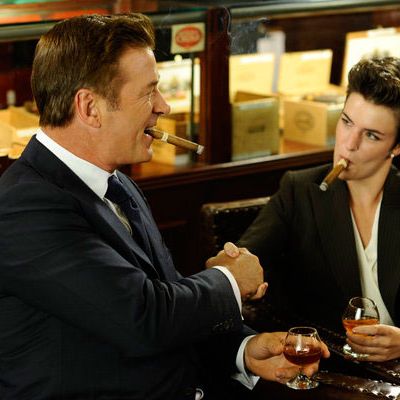 Stride with pride, 30 Rock fans! Tonight's episode felt like an instant classic, thanks in part to Jane Krakowski's delivery on "Are you all right, Jack? You look like that flashcard they told me means 'sadness.'" That line alone cost me a mouthful of wine, but since the show's central plotline centered on the "Why Women Aren't Funny" debate, I'd say it was worth it.
Yes, the latest stop on Tina Fey's Farewell Whistlestop Tour of Annoying Things She's Had to Deal With While Making 30 Rock was the icky, sexist chestnut canonized by the late Chris Hitchens in Vanity Fair, and called out by Fey in Bossypants earlier this year. Rather than trying to wackily disprove his theorem, however, Fey and the 30 Rock writers instead decided to come at it from the other direction, by simply pointing out that dudes think monkeys, the Three Stooges, and Tracy's fat gut are hilarious, and leaving it at that. (NOTE: If you are a woman and you think any of the aforementioned things are funny, please continue your Stride of Pride. Our ability to embrace all humor without fear of recrimination is yet another way in which we remain the superior gender.)
 
Meanwhile, in a different tip of the hat to the end of the 30 Rock era, the episode's other two plotlines dealt with learning to age gracefully. While Liz's sex life appears to be at an all-time high since her organizational breakthrough — now that she knows four different sex positions, one involving a chair, she considers herself ready to start having Sex and the City–style girl brunches — Jack is still trying to move on from Avery. He's dating a diverse group of women (and/or "stalag"), inspired by watching The Great Escape on TCM: There's Pizzerena Sbarro, heiress to the slice and calzone fortune, whom Jack takes to black tie events; Anne, who's into politics; Tabitha, who can program a DVR; and Mindy, the "sex idiot" who may or may not have hip joints. ("Shiny!") We also learned that were Steve McQueen still alive, he might be part of Jack's motley crew, but this is neither here nor there. Jack's back, ladies, flashy night tie and all … although his devil-may-care attitude belied the fact that he was letting himself grow dangerously attached to the pizza heiress.
 
This is where the gratuitous but surprisingly well-executed Ryan Lochte cameo came in: Turns out Zerena has a sex idiot of her own; up walks Lochte playing himself as shirtless (thank you) and dumb as a box of hair. Kudos to this summer's Olympic gold medalist in man meatery (oh and also swimming) for having enough of a sense of humor to play up his public image, and hey, his comic timing wasn't bad for a dude whom Jezebel named America's Sexiest Douchebag. But his existence cast Jack into deep self-doubt. If Zerena was Pokemoning — her preferred term for maintaining a vast collection of dateable men (catch 'em all!) — what role was Jack playing?
 
Watching him learn that he's serving as a father figure was really poignant, don't you think? Despite the age difference between him and Avery, one always got the sense they both believed they were perfectly matched equals; suddenly Jack found himself facing the fact that his days of dating leggy young things who view him as a powerful, virile mate were coming to an end, and he might be doomed to a future of being served soup. On the upside, according to Jenna, getting older means he gets to be racist whenever he wants! Yay!
 
Speaking of our favorite lunatic blonde, she'd suddenly been outed by celebrity rag THEM as a shocking 56 years old. "Code Orange!" hollered Liz, who snapped into action, deputizing Pete and Kenneth to destroy all traces of the magazine and ordering Cerie out of the building. Two things happened in here I wish I'd never seen: Jenna answering fan mail by wiping salami on the crotches of lacy underwear, and Kenneth dousing himself in mop water before doing an awkward semi-striptease, which mostly involved socks. Both things … I can't even. I'd need my mouthful of wine back, and then some.
 
But it was all a false alarm: Jenna had planted the article herself, in hopes of escaping the curse of the middle-aged actress. "Instead of losing a push-up contest to Julie Bowen to see who gets to play Kevin James's mean wife who he's sick of having sex with, I'm going to skip ahead to being an amazing slut who wins Oscars," she explained. Seems like this was Jenna's week to reveal an eerie streak of wisdom — not only did she manage to parlay being "old" into an endorsement deal with Geri-Chair (blowing away Paas Easter egg dye as this show's weirdest product placement of all time), but she may also have saved Jack from a broken heart. Let's revisit that scene, just because it was so very wonderful:
 
It is night. Jack is pining alone in his office. Jenna enters and throws open the doors to the balcony before noticing him sitting on the couch. She's surprised — she didn't think anyone would be in there so late. You see, sometimes she goes up there after dark to flash the Empire State Building. Jack wonders if she also flashes the Time Warner Center, just to make the Empire State Building feel like an old fool. Cue sadness-flashcard line and resulting spit take by your recapper. Jack explains that he is just an aging squirrel (?) in Zerena's Pokemon, but Jenna's not having any of his self-pity. "Accepting the way other people see us can be difficult," she admits. "Inside, I still feel like a sex idiot. But I have to accept the fact that I'm a fake 56 now, and more of a Diane Lane ageless beauty." And really, she asks, does he want to go all the way to Brooklyn to hear Zerena's friend D.J.? No. No, he does not. He just wants to sit at home, wearing a Hugh Hefner robe and watching black-and-white movies while a leggy young thing brings him soup. Wonderful!
 
The episode wrapped on a Sex and the City parody, Liz sitting on her bed in a tutu and writing a Carrie-style "I couldn't help but wonder … " column, complete with voice-over. "Is accepting who you are the secret to getting what you want?" she asked. Then she said something about all of us being monkeys with suitcases, made a Zappos joke, and fell off the bed. I'd wrap this up in cleaner fashion, but I've already gone way long and there are so many …

ODDS AND ENDS
 
- Joseph and the Amazing Technicolor Dreamcoat reference within the first minute? Yes, please.
 
- "I've seen your bathing suits, that could be anywhere." —Jack
 
- NERD RAGE!!!!! Has anyone started a @DRUNKNERDHULK Twitter feed yet? "YOU SAY TRON SEQUEL IS BETTER THAN ORIGINAL?? DRUNK NERD HULK ENGAGE!!!!"
 
- "Like a silverback gorilla or Mitt Romney's grandfather, I require more than one woman." —Jack
 
- I want to know what Ryan Lochte gives Zerena that Jack cannot. No, really, Ryan. Call me.
 
- "NO, Ryan Lochte. Focus!" —Zerena
 
- KenTremendous@fremulon.biz: probably not Michael Schur's real e-mail address, but oh, would that it were.
 
- Phyllis Diller, Joan Rivers, Gilda Radner, Lucille Ball, Julia Louis-Dreyfus, Lily Tomlin, Erma Bombeck, Tig Notaro, Ellen Degeneres, Monique, Roseanne Barr.
 
Over to you, friends. What did you think of tonight's ep? Of the two life philosophies presented — Jack's "There are no bad ideas, Lemon, only great ideas that go horribly wrong" and Liz's "When no conceivable good can come of something, don't engage" — which are you more likely to follow? What are the chances that former G.E. Chairman Jack Welch really thinks Alec Baldwin's name is Rick? And since three is officially a trend, what other memorable moments from Tina Fey's past seven years do you hope get written into the plot this season? Talk amongst yourselves, and until next week, walk with your arms up!