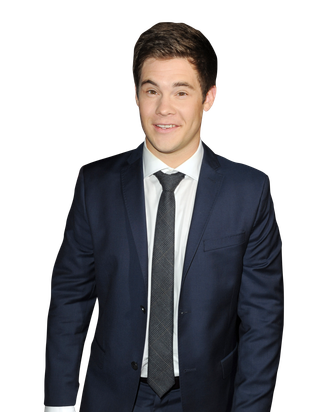 Adam DeVine.
Photo: Kevin Winter/2012 Getty Images
Adam DeVine, co-creator and co-star of the Comedy Central show Workaholics, is not just a troublemaker, he's a Treblemaker. In the delightful comedy Pitch Perfect, he plays the brash leader of an all-male singing group known as the bad boys of a cappella. His character, Bumper, is rude, crude, and all-around insulting to his female competitors, the Barden Bellas. (He tells them, for example, "You girls are awesome … ly horrible. I hate you. Kill yourselves. Girl power!") Still, he finds himself strangely attracted to the biggest of the Bellas, Fat Amy (played by scene stealer Rebel Wilson), who thankfully rebuffs him at every turn. A very funny DeVine chatted with Vulture about his love of sequels, wooing women with Disney songs, and his cameo on the resurrected Arrested Development.
Thanks for doing this so early in the morning.
It's a nightmare. [Laughs.] As soon as I can get my pants on, I'll be fine. I'm pantsless right now.
 
So Pitch Perfect is your second time lusting after Rebel Wilson, after her stint on Workaholics as Big Money Hustla.
Totally! It's so bizarre and it's so cool that the fans recognized that right away. We asked [screenwriter] Kay [Cannon], "Is there any way to beef up our love story?" And so we did some improv on the day, and improv-ed a lot of the scenes with each other. Some we made, some got cut — a lot of the really steamy stuff. Hot shower scenes, really steamy. It was so steamy the camera stopped working.

Maybe the camera stopped working because you threw a burrito at the cameraman.
You heard about that? Yeah, it was when I was supposed to throw a burrito at Rebel, and he said to aim for him, thinking I wouldn't hit him, and I pegged him right in the face. [Laughs.] That's why that scene is slightly out of focus. I think now that I have a reputation for an amazing toss, I should do a baseball movie. I need to be in Bull Durham 2.

What about more musicals, now that we've seen that you can sing and dance?
Who knew? I've got talent oozing out of my pores. I could do Billy Elliot 2, the prequel. I could play Billy Elliot's older brother. After Pitch Perfect, I only want to be in sequels. No. 2 of whatever. I'm ready to start Looper 2 now. My favorite sequels are basically all Mike Myers films — Wayne's World 2, Austin Powers: The Spy Who Shagged Me, Shrek 2. Anything he does, it's best the second time around. He needs to do So I Married an Axe Murderer 2. But my dream is to play a dude in an army/military-type movie. A real serious war movie by Spielberg or Soderbergh — really, anything "berg." I can be the funny guy who keeps the situation light, and then ten minutes in, I get sniped right in the face. I go down, and everyone's like, "Let's win this one for O'Malley." Because I'd be Irish.

For Pitch Perfect, did your girlfriend Kelley Jakle — who is an actual a cappella singer and is also in the movie — give you any pointers?
No, unfortunately. We met on set of the movie, and I think the reason I became so good is that I learned how to croon to her. I would sing every Disney song, so there was a lot of pretending to be Aladdin and Jasmine. I would sidle up to her and whisper, [half-sings] "Don't you dare close your eyes." That's from the song! Otherwise, it sounds like I was trying to molest her. You can't rape and woo at the same time. They do not go hand-in-hand. 

Could you handle a real riff-off like the one in the film at this point?
Yeah, that scene was all improv. We just pulled that out. And we just happened to sing the songs they had the rights to use. [Laughs.] Singing in ten-part harmonies like we do in "Please Don't Stop the Music," the weirdest part is not singing the lead, it's just going, "Boop boop boop" in the background. Those are the unsung singers.

Bumper gets a call from John Mayer to sing backup, so he promptly leaves the Treblemakers. Who would you have to get a call from to leave the Workaholics crew?
I'm much more loyal in actual life, unless it was anyone. I'm looking for a way out. If anyone calls, I'm ready to go. Maybe it was Spielberg, or Judd Apatow, then I might have to go, "Hey, guys, what if Adam wasn't in a lot of this season?" Maybe he gets arrested, and the whole ten-episode arc is about breaking him out of prison. The plans could be on a tattoo on Blake's back, much like on Prison Break.

So it could be Arrested Workaholics. Maybe then you could spend more time on Arrested Development.
Yeah, that was cool. We had Mitch [Hurwitz] on the second season of Workaholics [as Cool Eric], and it was so awesome to be around him again. He's just a legend. And we realized we need to be better, faster, stronger. We need to be the Kanye West of comedy. If Arrested were more like Workaholics, Jason Bateman would be more of a stoner. That would be my contribution — just add weed!

Jason got in trouble for tweeting that photo with you in the background.
I know, I know — but that was awesome. I was having reporters calling me, paparazzi outside taking photos. The anticipation of Arrested Development returning is so high, as it should be. It's one of the greatest sitcoms of all time.

Did they pay you to say that?
$400. I made $400. That's all it takes to pay me off. But it was so cool, because they didn't shut the whole airport down — people still have to fly — and kids were coming up and not recognizing Jason because they were only 16 years old. They were too young to have seen Arrested when it was on the air. So they were coming up to us and saying stuff, and Jason was like, "Wait, who are you guys? You're famous?" "Well, sort of. Not like you." But if I'm about to be, if the tabloids are going to start digging through my garbage, I should start planting some really funny stuff, to start rumors. Twelve dozen extra-large condoms with holes punched in them, so they'll go, "Wow, he has a huge dick, and he's getting all these women pregnant!"

You know, size doesn't matter for that.
I know, it's the motion of the ocean, but if you're going to start a rumor, you might as well go big.