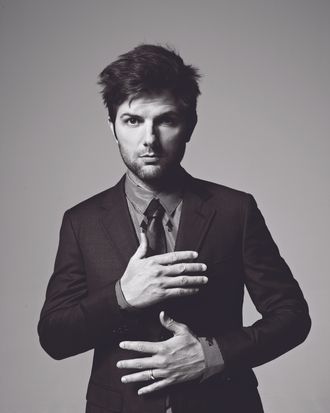 24 Jul 2011 — Adam Scott — Image by © Dan Monick/Corbis Outline
Photo: Dan Monick/? Corbis. All Rights Reserved.
If you're going to launch a production company, what better way than with a goofy, self-effacing spectacle such as "The Greatest Television Event in History"? Adam Scott and his wife's newly minted production company — Gettin' Rad Prodcutions, because of course — came out of the gate strong with that absurd heap of delights, but now it's moving on to more traditional fare. The company has optioned Chuck Klosterman's novel Downtown Owl, THR reports. The novel is set in a small town in North Dakota, and Scott calls it "lovely and moving and funny." Chuck Klosterman and Adam Scott: appropriate pairing or most-appropriate pairing?