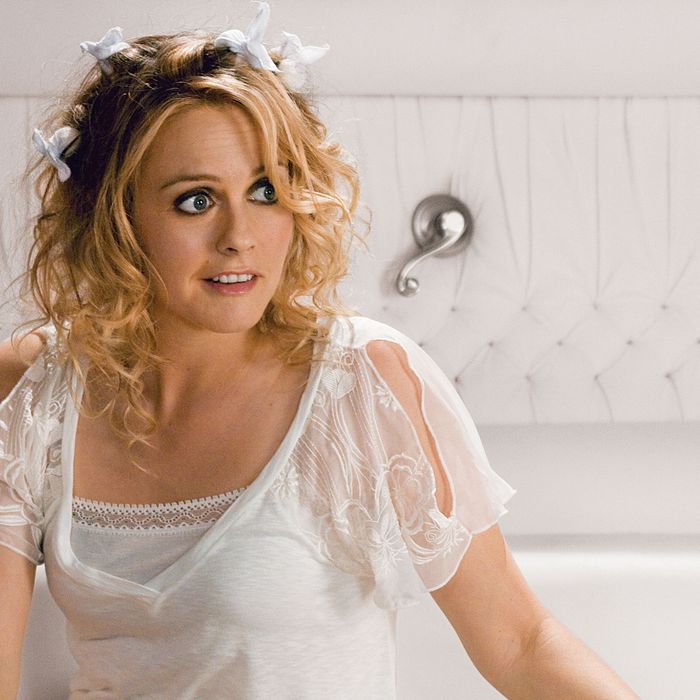 Alicia Silverstone answers the door of her Greenwich Village walk-up wearing one shoe, seeming slightly scattered in the well-meaning way one might imagine her most famous character, Cher Horowitz from 1995's Clueless, would be at age 36. Yesterday was Silverstone's birthday, which, she explains, didn't pan out quite like she'd hoped. "I had a big plan in my head," she says. "At first I was grumpy about it, but then I thought, Well, a few friends, let's all go to dinner and go dancing. And then the day rolled around and it was like, Forget that. Cancel!"
Instead, she went to tech rehearsal for The Performers, her third Broadway play (now in previews); took a bath with her 17-month-old son, Bear; and read Jane Eyre. "It reminded me of when I was little, when I'd go to England with my family every summer," she says. "It's so nostalgic."
Nostalgia has always factored into Silverstone's appeal. As the happily superficial Beverly Hills high-schooler Cher, poking fun at her stepbrother's flannel shirt, she was a glamorous throwback in the grungy nineties. Her recent guest stint on ABC's Suburgatory traded on fans' memories of that role, reteaming her with Clueless's Jeremy Sisto. And her new movie, Vamps, is another Clueless reunion, this time with director Amy Heckerling and co-star Wallace Shawn.
Walking through the West Village, though, Silverstone is recognized mostly for her animal-rights activism (apart from theater work, and the short-lived 2003 NBC series Miss Match, her acting career has been low-profile this past decade). When fans approach her, it's to ask about The Kind Diet, the vegan cookbook she wrote in 2009. At lunch, a self-professed "vegan model" tells Silverstone he's "part of the movement." In a thrift shop, a woman brags that her daughter "stayed vegan for her entire pregnancy—no medicine, no drugs!" ("Good girl!" Silverstone says.)
But over the years, Silverstone and Heckerling stayed in touch, and the director came to see her widely praised performance in Donald Margulies's Time Stands Still on Broadway in 2010. At the time, "I didn't really even know Amy was working on Vamps. She was just coming to see me in a play like she always does," Silverstone remembers. Afterward, she came backstage with a Vamps producer, "and we were all just hanging out in my dressing room. And then, three days later, I got this offer to do the movie."
Vamps follows Silverstone's Goody, a 200-year-old vampire navigating single-girl life in present-day Manhattan with her much younger best friend, Stacy (Krysten Ritter), from whom she's kept her true age a secret. Beneath the supernatural elements is a coming-of-age story not so different from Clueless, spiked with a similar mix of camp and earnest sentiment. "I don't think Amy likes to be clever just to be clever," says Silverstone. "And I'm assuming that's what she responds to with me: I bring that heart to it." Heckerling "writes in a really cool way, where it can seem surface-y, but underneath there's this lovely thing going on with friendship and disappointment."
As a hapless do-gooder with a flamboyant wardrobe (Clueless's costume designer, Mona May, came back for Vamps, too), Goody can occasionally seem like an undead variation on Cher. At the end of Vamps, when she decides that "being young is getting old," it's hard not to wonder if Silverstone must feel the same way—that she'll be forever remembered as her 18-year-old self—and must sometimes get tired of it. "Not at all," Silverstone says. "Maybe to some people I'll always be that girl, but that's totally fine. Clueless was a really good movie. Maybe people didn't hire me for things, but it's none of my business. I'm not in those rooms, so I can only imagine—and what's the point in that?"
Vamps, Directed by Amy Heckerling, Anchor Bay, PG-13.
*This article originally appeared in the November 5, 2012 issue of New York Magazine.