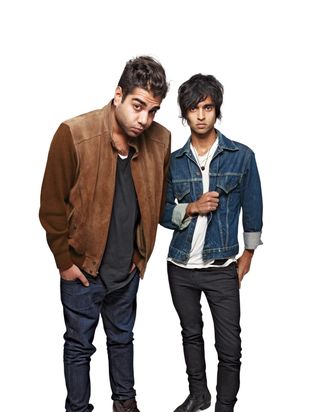 Photo: Victor Prado/New York Magazine
It started with a tweet from Vampire Weekend's ­Rostam Batmanglij: "Eating a dosa." Stereogum's Amrit Singh responded eagerly: "From where?"
Singh was at the height of his fetish for dosa — a savory, crêpelike Indian dish, typically stuffed with potatoes and onions and served with chutneys or sambar. Batmanglij's was from Hampton Chutney Co., and it had arugula and Jack cheese. "I was like, 'This dude needs a lesson,'" Singh recalls, sighing and smiling at the same time. "That is not dosa." Das Racist's Himanshu "Heems" Suri jumped in: Everyone knows the best dosa's in Queens! (Maybe not coincidentally his home borough.) Jazz pianist Vijay Iyer had some opinions of his own (he's evangelical about Saravanaa Bhavan, on 26th and Lex). A plan was formulated. A search for superb dosa was launched.
Singh nabbed his brother's Sprinter van, tricked it out in disco streamers, and grabbed Suri, Batmanglij, and Iyer, along with some of their drinking buddies: Suri's bandmate Ashok "Dapwell" Kondabolu, Yeasayer's Anand Wilder, and Neon Indian's Alan Palomo. He also brought along a camera crew. The result, his sharply funny documentary short Dosa Hunt — tagline: "The Greatest Hunt for South Indian Food in NYC Ever Committed to Film!" — premiered at Nitehawk Cinema in Williamsburg, Brooklyn last week.
Sitting over a long table covered with Mysore dosa and paper dosa and thali at Pongal, in Curry Hill, are five cast members from the film. Missing are Batmanglij, who is Persian, and Palomo, who is Mexican — meaning, purely by coincidence, these are the five Indian cast members. Kondabolu, Iyer, and Wilder (who is half-white) have roots in South India and grew up with dosa. Singh and Suri's lineage is from the Punjab region, in the North, and did not. "The first time I had dosa I was 7, and I was like, 'Whoa!'" says Suri. "Then I tried to make my mom make it, but she wasn't really good at it."
Even for those who know their dosa, you have to know where to look — it's a more obscure dish than, say, saag paneer. As Iyer explains, "The aspects of Indian culture that really hit America's mainstream, and that goes from Ravi Shankar to chicken tikka, were mostly North Indian." Filling the van with Indian people who didn't know much about dosa was part of the point — along with including non-Indian people (who you maybe thought were Indian—I mean, that one guy's band is called Neon Indian, right?). "This motley bunch that was assembled was interesting because," Iyer adds, "well, okay, you're smashing together all these different versions of brown."
What ties them together is being brown faces in the arts who grew up not seeing many brown faces in the arts. Singh went to high school in a Philadelphia suburb, where he hung out with kids "who liked the same bands, or liked the same drugs, as me." For the most part, those kids were white. He went to law school, reluctantly fulfilling a ­model-minority stereotype, but then dropped out of corporate law to write about music. Nowadays, he's encouraged by what he sees. "When I was growing up I had [Soundgarden's] Kim Thayil and [No Doubt's] Tony Kanal. That was it. Now it's like, young brown kids everywhere. These guys" — his dosa crew — "represent a big change in the immigrant experience. Really smart, really well-educated children of immigrants who have the luxury to choose art."
"I'm like a weird-looking, very South Indian man, covered in hair, and I sing and dance and talk about crazy shit," Kondabolu says, by way of seconding Singh. "There was no dude that existed like that when I was 16, in some weird niche of American culture, for me to say 'Look at that motherfucker.'"
The conversation meanders to food. Singh recalls vomiting from food poisoning at the Taj Mahal. Suri argues that dosa would be greatly improved if it were rolled more like a burrito; he likes portable food — "taxi-driver shit."
For a while, the group reminiscences over youthful run-ins with racism.
"There's no really good racial slurs for Indian people," Kondabolu says. "It'd be 'Gandhi' for a while. In middle school, you'd hear 'You smell like curry, man, you fucking smell like curry.'"
Wilder interjects, smirking: "In all fairness, you probably did," then adds that, in his case, the slur was always "Apu," which was hard for him to process. "I was like, 'I love The Simpsons! I don't want to get mad at you!' " Singh recalls hearing "jihad," which surprises Suri: "You got 'jihad' pre-2001? Those were some smart white kids."
Before we go, the talk turns to a sequel. Wilder suggests a Dosa Hunt for tacos, or sushi, or whatever. "And this time," he says, "you could even allow some white people to come!"
*This article originally appeared in the October 15, 2012 issue of New York Magazine.