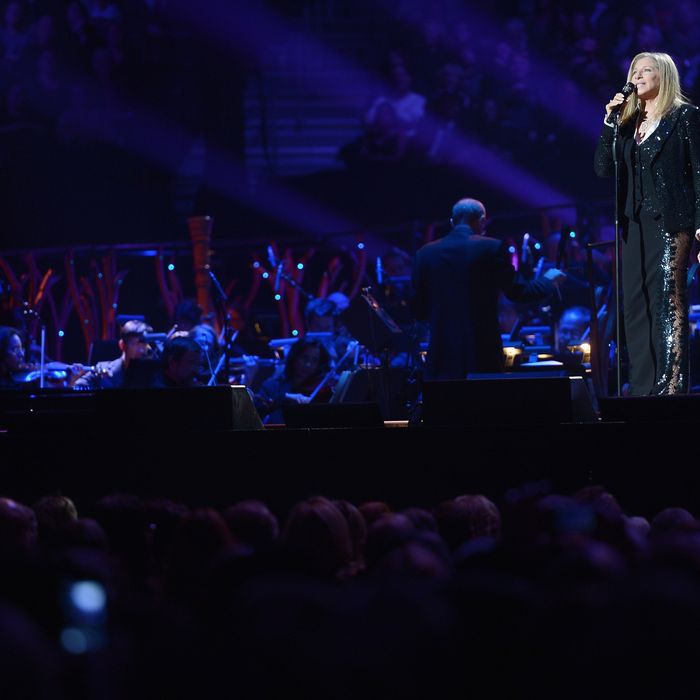 Singer Barbra Streisand performs at Barclays Center of Brooklyn on October 11, 2012 in New York City.
Photo: Michael Loccisano/Getty Images
Did you guys know Barbra Streisand grew up in Brooklyn? Well, last night, at the Barclays Center, she reminded us a few times. You see, while you were all watching the debate, I was at Barbra's "Back to Brooklyn" show, freaking out when she did "Evergreen," marveling at how incredible she looked, and generally bearing witness to what might be generously called excessive stage banter related to the fact that she was performing at a concert held in Brooklyn, and hooray for Brooklyn, and she is from Brooklyn, so this is really a homecoming! For her, a Brooklynite. The Brooklynite, as a video shown at the top of the second act of the show maintained! In an artful demonstration of the fact that you needn't sing your own praises if you can show others doing it for you, Streisand showed interviews with Brooklyn residents circa 1979, in which all attested that Barbra was indeed the most famous, the most legendary, and the most asked-about of any Erasmus graduate. That she was special. That she wore weird clothes. And what a voice! A voice that grew — like that tree did — in Brooklyn. Hooray for her!
In fact, last night was very special — and intense, and occasionally disappointing, but overall completely memorable. It was, as Barbra told us, the 82nd concert she's ever done in the history of her legendary career. Not long after the start time of 8 p.m., she walked onstage in a stunning black sparkly Donna Karan gown ("You like the dress? Donna Karan") and opened with "As If We Never Said Goodbye." When she hit the line, "I've come home at last," the crowd lost their minds.
Barbra blossomed in their warmth. She was in a good mood. She dipped into "Coffee Talk" soundbites three minutes into the show. "Talk Amongst Yourself" and "I'm Getting Verklempt" dripped from her mouth before "Rain on My Parade" or Funny Valentine." Her rhetorical cry to the rafters, "Who said you can't come home again?" was met with an emotional roar. She drove the point home. "The last time I sang in Brooklyn it was on someone's stoop on Polaski Street!" She looked into the crowd for her brother. At one point she actually said, "I love people from Brooklyn because they're real." Steps away from my seat, Fatty Cue was selling 14 dollar brisket sandwiches and 6 dollar bottles of water. But this is not about brisket.
It was, as everything surrounding Barbra truly is, about butter. Or B-U-T-T-A-H, as she spelled out for us later in the show: a.k.a., her voice. The Voice! But to be completely frank, Streisand did not sound as towering and mighty as I'd hoped she would. She had a teacup full of chicken soup onstage the whole time, and she sipped it sporadically, explaining she'd had a bit of a cough. She may have been saving herself for tomorrow night's show. (Also: She is 70.) She only brought the belt to a few numbers, which was sort of a bummer. She sounded good, but she held back. At least she mentioned Brooklyn a lot.
She sounded best in the jazz numbers. "What'll I Do," with trumpeter Chris Botti, was elegant, and "Bewitched, Bothered and Bewildered" was heartfelt and baroque. Even though she botched the lyrics to a Brooklyn-centric version of "You're the Top" ("You're an egg cuh-ree-um," stands out as a particularly astounding rhyme with "art museum"), Barbra could drape her voice over those transitions like silk over a perfect body without even getting out of bed. It wasn't no thing, but it still had some approximation of that swing.
Her version of "The Way We Were," framed as a tribute to her late, great friend Marvin Hamlisch, was loungey camp. As a slideshow of Barbra and Marvin lit up the screen, Babs alternated humming the iconic tune with impromptu memories about the late composer. For example, "MMMMmmmmm-hmmmmm … Marvin was so generous and thoughtful. He never forgot my birthday … Memories … like the corners of my mind … " I wanted the Sweeney Sisters to come out and abet her transition from that into the Ice Castles number to complete the medley.
Barbra also had the well-intentioned lapse in judgment to bring out Jason Gould, her cute-in-a-Groban-y-way son, to sing a couple of songs. Yikes. This was after another slideshow of Jason and Barbra over the years, with Elliott Gould for the most part cropped out. Babs and Jason reminisced about the songs they sang together when he was an infant and she had miraculously shed her baby weight in time to get into the Fanny Brice corset. "Did we ever sing anything you weren't in?" quipped Jason, which was endearing until we realized he was going to take the mike while Babs just sat behind him beaming, like we came to watch her be proud of somebody.
Other highlights included the "Ask Barbra" segment, in which Streisand used her incredible French manicured nails to pluck out index cards from a suggestion box like she was playing a harp. Then she told the audience that she preferred smooth "natural" peanut butter over chunky, that she remembered one of her fellow campers from summer camp (yeah, right), and that she hoped "No one [would tell] Romney how to get to Sesame Street or to Pennsylvania Avenue!" The most important part of this section was that she donned reading glasses like Homer Simpson's in order to read the questions.
I also particularly appreciated the first costume change, after which Barbra returned wearing a black sequined garment that looked like a cabaret version of a judge's robe. On the front, baseball lettering spelled out "Brooklyn," and on the back, "Streisand 24." Terrific. Like in sports! Oh, and if that were not enough, there was a pantsuit underneath. The caramel in the center of a sartorial Rolo!
Another gem: During parts of the show, Streisand sat next to an end table that held her teacup of broth, plus a small vase with roses in it. Toward the top of the concert, she picked up the whole vase, lifted it to her nose to smell the roses, and said "Mmm."
Hand it to Brooklyn for rallying itself to petition Barbra to get the house lights turned off while she sang. Watching her interpret this request from a teeming mass of fans, then ask the tech booth to do her bidding, was like watching the best episode of Lassie ever. "What's that? The light? You want me to turn out the light! Oh, the lights! You want them to turn the lights on you? Yes! Turn the house lights on the audience. Thank you. This one's called 'Evergreen.'" Marvelous.
Her Act 1 finale, in which Barbra basically auditioned for the part of Mama Rose, medleying "Rose's Turn" into the climax of "Don't Rain on My Parade," was high stakes enough for her to bring out her belt. It was glorious. I got goosebumps. I shouted "YEAH!" before the lights came up. I let go of my anger about the 14 dollar brisket sandwich. The bread was dry! 
The finale took shape in the form of a salute to Planet Earth that was so grandiose, you'd think Barbra were trying to say "fuck you" to Bette Midler. While Barbra emoted glamorously in a Halston-y looking red cape-gown that flattered her breasts to no end, a choir of young men and women of all creeds marched out in matching blue robes alongside Il Volo, the three teenage Italian tenors Barbra used as filler earlier in the show while she either switched outfits or had a quick nosh. They did "Make Our Garden Grow" from Candide, and it was Over. The. TOP. Blessedly so.