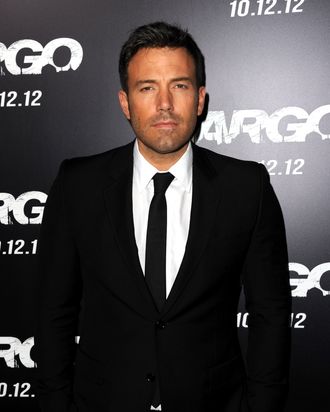 Actor/director/producer Ben Affleck arrives at the premiere of Warner Bros. Pictures' "Argo" at AMPAS Samuel Goldwyn Theater on October 4, 2012 in Beverly Hills, California.
Photo: Kevin Winter/Getty Images
Ben Affleck was driving in Santa Monica on Saturday — allegedly taking his daughters to McDonald's; story developing — when he knocked off a parked car's mirror. Solid dude that he is, Affleck left a note reportedly reading, "Hi, knocked off your mirror! Very sorry! Will cover everything—Ben." Based on the pristine paparazzi shot of the incident, we're inclined to believe the note's contents, and to wonder whether Ben would have left it if paparazzi didn't exist.