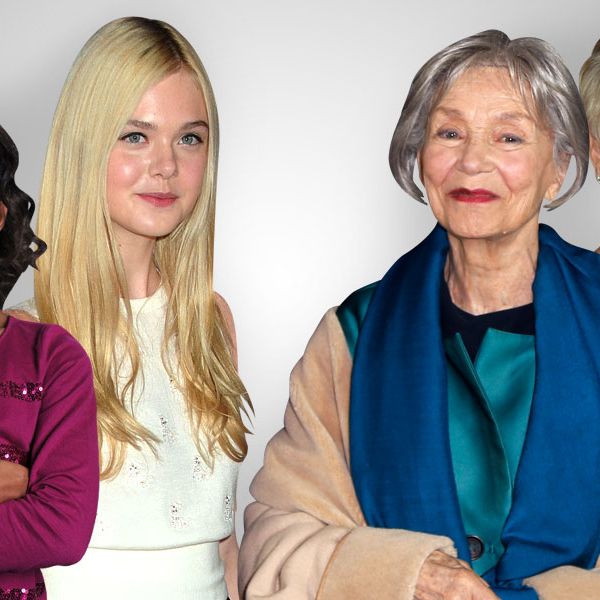 Photo: Getty Images, Corbis
The Best Actor category at this year's Oscars promises to be so crowded by big-name contenders like Daniel Day-Lewis, Denzel Washington, and Hugh Jackman that you could probably make a second tier of five additional nominees that's just as strong and star-packed (Bill Murray! Jack Black! Richard Gere!). The Best Actress category, on the other hand? Well, pundits are less enthused by this motley crew of potential nominees, which will probably contain at least two performances delivered in French and one by a first-time actress. Still, there's at least one compelling reason to keep an eye on this year's Best Actress category: It's increasingly likely that it will contain both the youngest and oldest actresses ever nominated for that award.
The youngest is surefire contender Quvenzhané Wallis, the lead in Beasts of the Southern Wild, who will be 9 years old in January when the Academy Award nominations are announced. (She was only 5 when she first auditioned for the film.) When Beasts was released this past summer, some Oscar pundits were skeptical that voters would cast a ballot for a contender as young as Wallis, but her performance remains one of the standouts in a thin year, bolstering her odds. She's likely, then, to break the record set by another first-timer, Keisha Castle-Hughes, who was 13 years old when her Whale Rider performance was nominated for Best Actress in 2003.
In fact, this year's crop of Best Actress contenders includes a few other notably young women, too. At 20, Jennifer Lawrence became the second youngest performer ever nominated for Best Actress thanks to her work in Winter's Bone; she's certain to be included again this year, at age 22, for her standout performance in the upcoming Silver Linings Playbook. (Though, if she won — and she's currently the frontrunner — it wouldn't be enough to unseat record-holder Marlee Matlin, who won at age 21 for Children of a Lesser God). Meanwhile, Elle Fanning is in the mix for Ginger & Rosa, and she'd be a mere 14 if nominated.
On the other end of the spectrum is Emmanuelle Riva, an 85-year-old French actress who's impressive as a dementia-stricken wife in Michael Haneke's devastating Amour. Riva would be the oldest Oscar nominee ever in either leading category, male or female, trumping the 1989 nomination and win by Jessica Tandy for Driving Miss Daisy at age 80. Even better? The Oscar ceremony is going to be held on Riva's birthday, February 24, so if she happened to win, she'd be able to do it as a spry 86-year-old. Among Riva's competitors is Judi Dench, who will make a go of things as the lead of The Best Exotic Marigold Hotel. While she's not as old as Riva, the 77-year-old Dench is still one to watch: Of the ten oldest performances ever nominated for Best Actress, Dench has already delivered three of them (in Iris, Mrs. Henderson Presents, and Notes on a Scandal).
What other conclusions can we draw from the 76-year gulf that could separate Wallis and Riva at the Oscars this year? For one, all these stats about age confirm the current drought of talented young actors. The ten youngest nominees for Best Actress are all under age 22, and half of them were nominated in the last fifteen years; by contrast, only two performers under 22 have ever been nominated for Best Actor, and they were Mickey Rooney and Jackie Cooper way back in the thirties. Hollywood still loves an ingenue, but it's had trouble finding young leading men.
At the same time, though, it needs to provide for those ingenues. 2012 may have been great for superheroes, but to judge from the contenders for Best Actress, it was lousy for American leading ladies. Potential nominees Lawrence, Riva, and Wallis are all worthy of the honor, but it's no coincidence that their male co-stars — Bradley Cooper, Jean-Louis Trintignant, and Dwight Henry, respectively — face an uphill battle to even be nominated in the far-more-crowded categories for men. It'll be fun if the Oscars can break some records this year, but it'd be even better if Hollywood could find some more award-worthy roles for its female movie stars. (Jennifer Lawrence can only take so many.)