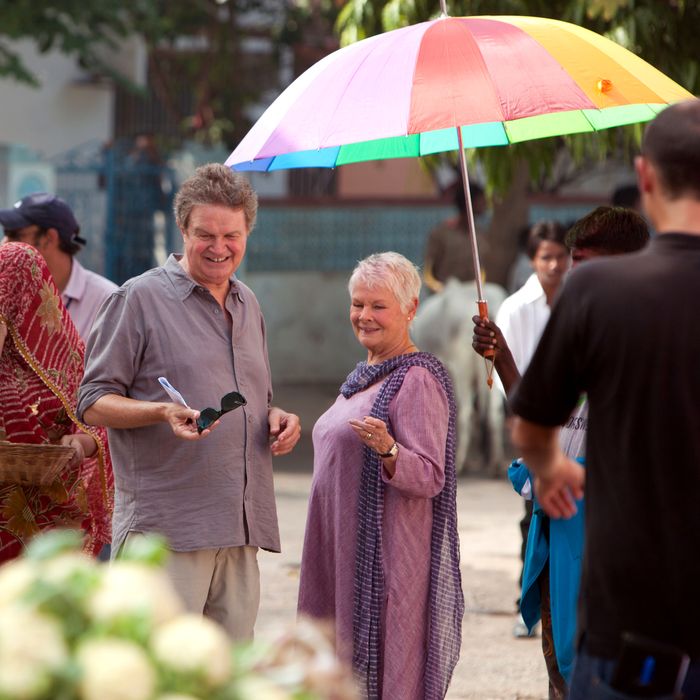 Photo: Ishika Mohan/Twentieth Century Fox
In the next few weeks, screenwriter Ol Parker will deliver a treatment to mini-studio Fox Searchlight executives for a sequel to The Best Exotic Marigold Hotel. Insiders familiar with the project tell Vulture that the principal cast "all wants to come back," and it's easy to see why the studio is eager for them to do so: With a production cost just shy of $10 million, its $130 million worldwide gross made it one of the most profitable films of this year. This underlined the point made by last year's Red­, which grossed $200 million worldwide on a $58 million budget with its decidedly more mature killers Bruce Willis, Morgan Freeman, and John Malkovich: There's green in gray.
Now a sizeable crop of actual studio pictures are coalescing around what in Hollywood is an utterly radical notion: What if you didn't need a huge opening weekend and could count on a slower, steadier climb? What if you aimed at an audience that loved going to the movies — was, in fact, starved, almost desperate for product — and had both the free time and discretionary income to spend on an increasingly rarified leisure-time pursuit just about any day of the week? Well, they exist, they don't want to see loud sci-fi blockbusters, and they're finally being noticed.
Warner Bros. is currently casting Grudge Match, a romantic comedy starring Sylvester Stallone (now 66) and Robert De Niro (69) that is essentially Grumpy Old Men set in a boxing ring. Why no one had the presence of mind to call it Aging Bull, we'll never know, but we're told that the love-interest role (played by Ann Margaret in 1993's Grumpy Old Men) will likely go to Kim Basinger (who is now 58!).
Quartet, which seems at first glance like it already is the sequel to Best Exotic Marigold Hotel, stars Maggie Smith, Billy Connelly, and Michael Gambon as opera singers in a retirement home, and it opens December 28. It is directed by fellow veteran Dustin Hoffman.
At sister studio New Line Cinema, a remake of Martin Brest's 1979 geriatric comedy Going in Style is well underway. (For those too young to remember, it starred George Burns, Art Carney, and Lee Stasberg as three bored oldsters

who decide to rob a bank together

.) Insiders tell us that the studio has narrowed its list of director candidates to David Frankel (The Devil Wears Prada); Phil Lord & Chris Miller (21 Jump Street); and Paul Feig (Bridesmaids).
Filming has started on Last Vegas, a CBS Films comedy starring Robert De Niro, Morgan Freeman, Michael Douglas, and Kevin Kline as four sixtysomething best friends who decide to escape retirement and throw a Las Vegas bachelor party for a long-single pal who's finally tying the knot.
A (certain) sequel to Red is currently filming, with a planned release next August, but if you prefer not to wait to see geriatric assassins plying their craft, you can catch Lionsgate's Stand Up Guys this coming February. A comedy about a pair of aging criminals (Al Pacino, 72, and Christopher Walken, 69) try to get their old gang back together (including Alan Arkin, 78) for a last score before one of the duo takes his last assignment; naturally, it's to kill his comrade. There's also Parental Guidance, a comedy starring Billy Crystal (64) and Bette Midler (66), which is in postproduction, ready for a Christmas release this year.
This isn't some odd codger coincidence, says Patrick Corcoran, the director of Media and Research for the Motion Picture Association of America: "The fastest growing section of the population is over 50." In fact, surprisingly, the over-60 crowd now far outnumbers teenagers at the multiplex in terms of buying power, but up until now, nobody has been catering to them, instead focusing on the average Clearasil user. Corcoran notes that 12- to 17-year-olds are just 8 percent of the population, but make up 16 percent of "frequent" moviegoers – those defined as attending at least one film a month. By comparison, audiences 60-plus years of age made up 19 percent of the population last year and account for 12 percent of "frequent" moviegoers. "They're a population that sort of made theatrical movie-going," Corcoran says. "They drift away because of family pressures, but they can be driven back. The answer is not trying to hit only home runs with fewer movies, but instead try for more doubles and triples tailored for a more diverse audience." And this demographic is a market that will balloon in the next decade. According to the U.S. Census bureau, Americans 65 and older were 10.9 percent of the population in 2000 and 11 percent in 2010, but will leap to 14.1 percent by 2020.
A cautious movie executive might note that, sure, they have ticket-buying power, but they're buying lower-price tickets, what with their senior discount. But the fact is, it isn't just the AARP crowd that is large and underserved: Last year, the MPAA found that adults 40 to 49 and 50 to 59 both accounted for 14 percent of the population and 9 percent of frequent moviegoers. (And they pay full price.) Plus, this adult audience grew up going to movies; it's an ingrained habit that they enjoy, unlike younger viewers who are increasingly indifferent to whether they watch a movie in a theater, on TV, or on a phone. And for moviegoers in their teens and twenties, movies are on a much longer list of things vying for their entertainment dollar. "[Adult moviegoers are] a market that's easier to get off the couch because they're not playing Xbox," says Corcornan. "I think there's a case to be made; it's a market that needs movies." And Paranormal Activity 18 just isn't gonna cut it.