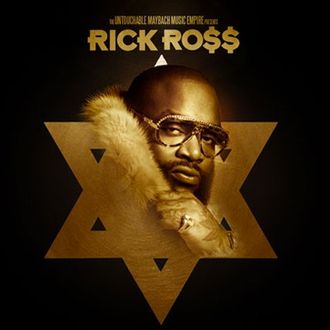 The Black Bar Mitzvah's album art.
Six days into 2012, Rick Ross dished up the 80-minute Rich Forever and got the likes of Slate and the New York Times writing seriously and thoughtfully about a free mixtape. In June, Ross headlined Self Made Vol. 2 alongside his Maybach Music Group stable, appearing on nearly every track. A month later came the chart-topping fifth studio album God Forgives, I Don't. (Along the way, Ross released a music video roughly every week, turned in verses for Nicki Minaj, Mariah Carey, Mary J. Blige, Usher, and DJ Khaled, and continued his quest to rhyme-ify every food in existence.) Now Rozay has another magnificently titled and cover-arted mixtape, The Black Bar Mitzvah, up for grabs. That brings the Boss's tally, in just nine months, to one solo LP, a crew album, a record disguised as a mixtape, and a regular mixtape. Should we somehow thank the seizure, or wonder if a completely healthy Ross could've managed an even more staggering creative output?
Any question of quality is almost an afterthought with that track record, but yes, this one's good. The Black Bar Mitzvah is a promotional gambit for Ross's Maybach Music Group Tour, comprised entirely of established beats (Kanye and Friends's "Clique," "Mercy," and "I Don't Like," 2 Chainz's "Birthday," Big Sean's "Burn," another stab at the Pharrell-produced God Forgives track "Presidential") often featuring the original verses and made newly worthwhile by Ross's flow-bucking additions. You can get it for free at DatPiff now and wait till later to work out the algebra on how Ross buys $12 million boats while releasing so much free music.