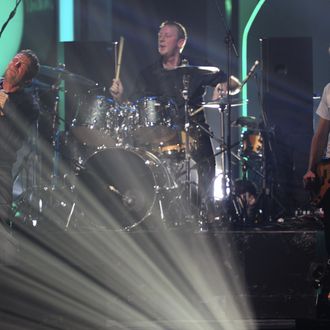 Damon Albarn (L) sings with drummer Dave Rowntree (C) and bassist Alex James (r) as the British alternative rock band Blur perform live on stage at the end of the BRIT Awards 2012 in London on February 21, 2012.
Photo: LEON NEAL/AFP/Getty
Once upon a time, Blur said they might get back together, but then it took them forever, and then they only released a couple of songs and Damon Albarn changed his mind twenty times about whether or not the band would continue to exist. Well, it will: Blur is headlining a Belgian music festival next July; they'll probably do some other dates, too. And so concludes this chapter of Will They or Won't They: The Blur Reunion Chronicles.