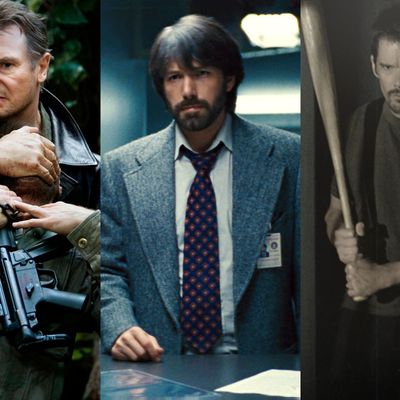 Liam Neeson in Taken 2, Ben Affleck in Argo, Ethan Hawke in Sinister.
Photo: Twentieth Century Fox, Warner Bros. Entertainment, Summit Entertainment
This Weekend's Winners: Even though it lost more than half (55 percent) of its opening weekend audience, Taken 2 still managed to abscond with the box-office crown, as well as $22.5 million. Meanwhile, Argo was close on its heels with $20 million. And finally, while we feel funny calling such a much-derided film a "winner," the $3 million Sinister certainly is that, at least financially; it scared up an $18 million haul.
This Weekend's Losers: The Shih Tzu hit the fan this weekend for Seven Psychopaths, which locked up a mediocre $4.3 million. Far worse, if Atlas merely "shrugged," then how to describe the vast, yawning indifference felt by moviegoers confronted with Atlas Shrugged: Part II ?  The second part in a planned trilogy adaptation of Ayn Rand's 1,000-plus-page Objectivist doorstop collected $1.71 million from just over a thousand venues. To put that in context, the first half managed virtually the same amount ($1.69 million) from a third as many theaters last year.

How It All Went Down: If your initial reaction to the razor-thin amount of gross separating one of the year's best-regarded films (Argo, CinemaScore A+) from one of its least-impressive (Sinister, CinemaScore C+) was intense dismay about the state of smart films made for adults, you are hereby forgiven and exhorted not to lose faith. "Argo only opening to $20 million is not surprising," explains one distribution chief, adding, "Fifty-two percent of its audience was over [the age of] 50! We don't rush out to the movies unless it is for our kids."

And while another studio head notes that Warner Bros. "spent an absolutely stunning amount of money to open second," it was all well spent, for several reasons. The first, this chief notes, is that "Warner Bros. is in the long-term Ben Affleck business; Ben wants an Oscar." And the other, observes a second worldwide head of marketing and distribution at another studio, is that "Argo will ride it's A+ [CinemaScore] a long way." — which was quickly seconded by our original head of distribution, who insists, "[Argo] will have great legs!"

By comparison, the future for Sinister is fairly bleak — even if its $3 million pricetag means anything after this weekend is all gravy. Combine its C+ CinemaScore with the fact that it will run face-first into a buzz-saw next weekend with Paramount's release of a fourth Paranormal Activity and its long-term prospects are decidedly grim.

Meanwhile, Here Comes the Boom has its own challenges. For a moment there in 2009, it seemed as though Paul Blart: Mall Cop star Kevin James was on the cusp of a Jim Carrey–like rise from TV comic to comedy movie star. But then Zookeeper opened to $10 million less than Mall Cop, and now Boom has opened to $10 million less than Zookeeper.

Sony Pictures vice chairman Jeff Blake is quick to defend the comedy, noting "We had a tough time marketing the concept of Here Comes the Boom, but people who saw it love it — it got an 'A' Cinemascore — and it will hang in there, as a well-playing PG picture often does. Kevin James is a big comedy star, as far as I'm concerned."
 
(Other, rival marketing and distribution chiefs, unsurprisingly, do not share Sony's optimistic appraisal of James. Opined one, "Kevin James is a by-product of the Adam Sandler group; 'nuff said.")

Finally, what to say or do with Seven Psychopaths, so unceremoniously run off the road? The second outing of Irish playwright Martin McDonagh and Colin Farrell (whose last pairing was the excellent if underseen In Bruges) skewed heavily toward males (62 percent), particularly those old enough to rent a car (71 percent were 25+). Among that demographic, it was well-liked, getting an A- CinemaScore among guys 18 to 34.

Still, our spy network of studio execs all agree that it is wrong to beat up on "a small art house film that was never meant to be otherwise" — even one that is likely to settle only slightly above the two Irishmen's last onscreen misadventure. Instead, one among them says there's a different lesson to be learned from this weekend's box office logjam, which is up a honking 60 percent over the same weekend last year: "The real story here is that October is the new Christmas, if you look at this past weekend," says this studio chief, "too many movies chasing the same male audience."