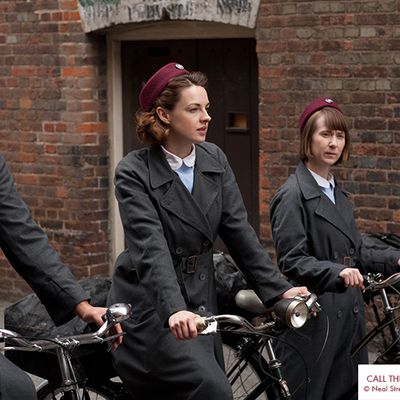 As if Sundays weren't crowded enough in the fancy-drama department, PBS started airing Call the Midwife last night. (You can watch the first episode online.) The show is a British period drama that follows eager young midwife Jenny Lee as she bicycles around fifties England tending to the destitute. It's charming! Think All Creatures Great and Small but with women instead of farm animals. (In a good way.) Fog and doctor bags aside, Midwife needs to answer one important question: Can it scratch the Downton Abbey itch? M'lady, it can.
Is there an attractive, naïve brunette at the center of the story? Yes! Jessica Raine stars as Jenny, who's more capable than Lady Mary, certainly, but just as porcelain-skinned and sheltered.
Are there poor people? Are they ruddy? Yes again! Midwife is set in dilapidated East London, so the patients are mostly poor. Many of them are also extremely ruddy and vaguely grotesque, à la the Thénardiers from Les Misérables. No one is quite as flushed as Mrs. Patmore on Downton, but that is a tall task.
What of romance? Alas, not much romance at the beginning. But if you were giving old-fashioned enemas all day, would you be in the mood for love? (There's a lot of enema talk on Call the Midwife. A lot. Really, really a lot.)
How about a homely sidekick? Oh boy, yes. Downton's Edith has her detractors, but by far the best character on Midwife is "Chummy" Browne, played by British comedian Miranda Hart. (Have you watched the BBC2 series Miranda? Well, you should.) She doesn't show up until the second episode, but from there on out, she's the show's highlight.
Does it sort of acknowledge but mostly gloss over class conflict? Midwife does not put Downton's jolly spin on poverty, but it's not a hard-hitting exploration of the roots of post–World War II economic disenfranchisement, either. Even though it has a gritty setting and premise, Midwife is pretty light.
Okay, I'm in — as long as there's an old woman who rattles off amazing zingers. Jenny's a layperson, and there are other young lay midwives, but they live at a convent and are surrounded by and supervised by a flock of nuns. One of the elderly sisters is prone to long literary quotes that frustrate everyone around her but are pretty entertaining for the audience. Not "What is a weekend?"–level entertaining, but still solid.