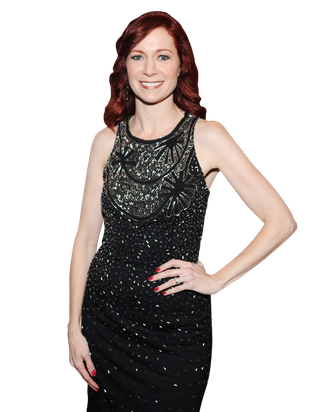 Carrie Preston.
Photo: Ilya S. Savenok/Getty Images
Carrie Preston is best known as Arlene Fowler on True Blood and Elsbeth Tascioni on The Good Wife, both wacky characters in their own right. But she's only making a cameo in her latest film, That's What She Said, which she directed. The comedy, now in limited release, is an adaptation of the play Girl Talk by Kellie Overbey (which Preston also directed) and features three very different women: an optimist looking forward to a prospective date (played by Marcia DeBonis), a cynic who no longer believes in love (Anne Heche), and a nymphomaniac who uses sex to feel better about everything (Alia Shawkat). In the case of the last, if a partner isn't readily available, she'll retire to the nearest public restroom or hop on a subway train, which has a vibrator effect on her. Preston chatted with Vulture about orgasms on the subway, women in Hollywood, and modern dildos.
You really get the sense that you're in the real New York with this film — not a glamorized, idealized version of the city.
It was really important to me to depict that. This morning, it was pouring rain. Pouring. I'm wearing heels and a very tight dress, and I had my hair all down and everything. My sweet husband [Michael Emerson] cut together from an old poncho a little hair tie for me — and I looked like the biggest bag lady! I had a hair tie that was blue, I had a black raincoat, a red umbrella, and a pink purse, and boots, with my high heels in a bag. And looking like that, I took the subway because I'm never going to catch a cab in the rain. It's not Sex and the City, and I feel like the movie tries to capture that.
The subway scenes, you mean.
Illegally filmed, by the way.
Both scenes employ methods that people might want to borrow: first, Anne Heche's pretense of having Tourette's to get people to move away from her, very handy; and second, Alia Shawkat's technique of getting an orgasm from the train's vibrations.
You wouldn't believe it, but we actually shot Anne's scenes in a very crowded subway. That was my costume designer and script supervisor who were sitting next to her, because we didn't have any money for background. People sort of looked, laughed a little bit, and then went right back to whatever it was that they were doing. They couldn't have cared less: "Eh, Anne Heche doing something weird, whatever." Same with the orgasms. No one batted an eye. Although that was very subtle — you had to know. But Alia was changing costumes on the subway in between the takes, so we were on the subway holding up coats to help her change clothing, and there was a camera operator, a boom operator, and me, so it was pretty kamikaze to shoot. We were doing this, mind you, at three in the morning, and on the A train — but, still, the subway was alarmingly packed at that hour.
Is the A train the best train for orgasms?
I wouldn't know because I've never tried it, but in theory, yes. [Laughs.] There's no O train, so I think it's the A. There are fewer stops, so you definitely have a longer run at it, to get the rhythm going. It's a good stretch. You could do it all the way to JFK. I love that in the movie, when she says she has spontaneous orgasms on the train, people ask, "Which train? Which line?" I mean, she wants to know exactly where she needs to go to get it on.
Where did you get Alia's dildo for when she wants her orgasms in slightly more private locations?
The props woman on the film, she went everywhere, and she would send me these pictures and videos of these sex toys, and I was like, "Too much!" They all had these wings and things, and I was like, "Does no one just make a plain vibrator anymore? Can you find something that's not out of a science-fiction movie?" Most of them have all these appendages, and for that shot, I just wanted a phallic symbol. I didn't need it to be an alien thing on the floor that was moving around, so we had to craft that.
This started as a play in 2004, long before raunchy female comedies became en vogue again.
When Kellie wrote this script, there were no Bridesmaids running around. There was no Bachelorette happening. There were no Girls on HBO. There was none of that. I'm happy about those — I love Bridesmaids; I was there opening night — but I feel like Hollywood has amnesia. Do they not remember the silent films that were almost all starring women? Do they not remember the screwball comedies? Do they not remember Lucille Ball? They don't, and they forget, and we've had some major amnesia, and we're starting to come back into it. But if I'm going to watch men grabbing their crotch onscreen since the beginning of the talkies, we need a tit for tat.
I thought it was because Marcia's character had just shaved at first, but she's grabbing her crotch because of a yeast infection.
Movies don't usually address any of that, any of the stuff that we do. Here's a woman holding up a centerfold, shaving, trying to live up to an ideal, and you know she's not going to. She represents many, many women in the world that Hollywood will never give a leading role to.
Unless you're Melissa McCarthy.
And then they make an exception. And I'm glad that's happening. But it's very rare. As a feminist and a woman who believes in representing all females in film, I thought the only way to do that is to make it happen yourself. If we sent Kellie's script to Hollywood, this would not be the cast. They would just want someone who puts glasses on and goes, "Oops! I'm adorkable!"
You're on hiatus right now for True Blood. Any discussions yet with the new showrunner [Mark Hudis] about how things might change for Arlene and Terry?
No, but he's wonderful, and he's a big supporter of Arlene and Terry, so I'm curious to see what they'll do what with our characters. Right now, I'm doing a three-episode arc on my husband's show, [Person of Interest], playing his fiancée. We're doing flashback scenes, and it's so fun to be working with him, to be on set with him and see how he works with that character. It'd be fun if he could ever cameo on True Blood, too!