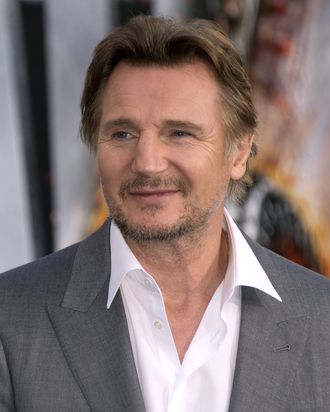 Actor Liam Neeson arrives for the premiere of "Battleship," May, 10, 2012 at the NOKIA Theatre at L.A. LIVE in downtown Los Angeles.
Photo: Robyn BEck/AFP/Getty Images
"I went and shot a scene [in The Dark Knight Rises] for two hours with Christian Bale. There was a set, and Christian was tied up. I said, 'Chris, what am I doing?' 'Um … well, just walk forward, and say the lines, walk back, and that'll be it, really.' I said, 'What the fuck? Tell me the story!' 'Um … I'd prefer not to, really.' Okay, don't mind me — I'm just an actor." — Liam Neeson, who may need to schedule some trust falls with director Christopher Nolan.