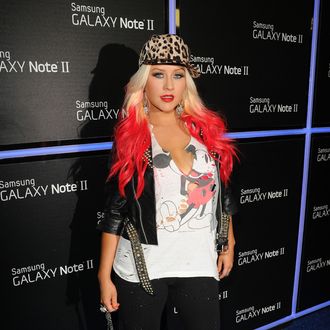 Photo: Jason Merritt/Getty Images
Christina Aguilera never met a note she couldn't embellish, but sometimes in pursuit of a hit, one has to mix things up a little. Like on "Beautiful," which required some coaching from songwriter Linda Perry. Aguilera said at an industry panel yesterday that Perry had pretty direct suggestions for how to perform the song. "'Don't do all that Mariah shit' — that was [Perry], not me, I love that shit," Aguilera said. "But she was like, 'Don't be doing all that acrobatic shit, just sing!'" If only reality-contest-show singers could internalize such vital wisdom.
Speaking of wisdom, Aguilera has adopted her own brand of haters-gonna-hate detachment. "I don't read blogs. It's just God-knows-who in buttfuck wherever writing hate shit. You can't take it seriously," she said. "I'm sure you've all been hated on at some point by buttfuck people." We sure have.