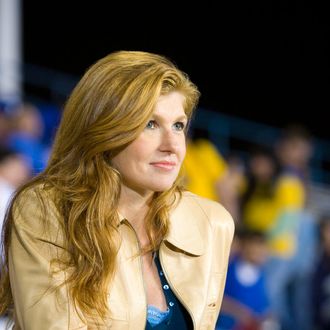 Last week, we begged Tami Taylor to come to America's rescue and make Mitt Romney stop using Friday Night Lights's inspirational motto. And now Connie Britton and FNL executive producer Sarah Aubrey have sort of answered that call, with an editorial in yesterday's USA Today that focuses on the female characters from the show and the lives of women in general.
Dillon is a classic American town filled with hard-working, middle-class Americans, who just want to lead productive, healthy lives. And the women we represented on the show — the women we are in real life — are like the millions of women across the nation. Women who want to make our own health care decisions. Women who want to earn equal pay for the work we do. Women who want affordable health care.
In fact, it is President Obama who has shown his values to be more closely aligned with those represented by the phrase.
Thanks to the Affordable Care Act, they write, "quarterback Matt Saracen's grandma would have then been able to get the affordable health care she needed." [Sob.]
Romney actually wants to throw the entire law — and every benefit — out, and while he's at it, get rid of Planned Parenthood — the health care provider that nearly three million Americans rely on for their life-saving cancer screenings, well-woman visits and affordable birth control. Planned Parenthood was well represented on the show, too — Brian "Smash" Williams' mom worked there, Tami got a pregnancy test there, and, after being abandoned by her parents, Becky Sproles was able to get a safe and legal abortion there.
Abortions for some, miniature American flags for others; we knew Tami Taylor would never let us down.