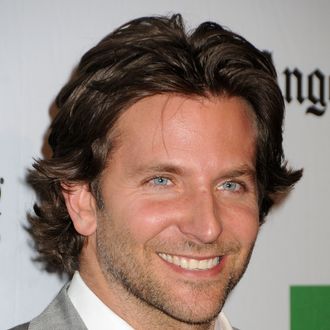 Photo: Byron Purvis/Byron Purvis/AdMedia
We were beaten to the punch last night on breaking the news that Bradley Cooper will be joining Cameron Crowe's next film, a currently untitled drama that will also star Emma Stone. But that's just part of the story. What's missing from the other reports is why — and what comes after.
Cooper is coming aboard thanks to the involvement of Scott Rudin, the New York–based producer who is as potent in film as he is in theater (having EGOT-ed earlier this year with a Grammy for the album to The Book of Mormon). We're told that Cooper, who spent the summer at the Williamstown Theater Festival performing in Bernard Pomerance's play The Elephant Man, has made no bones about the fact that he wants to take the production to Broadway for a limited run. As a blandishment for joining Crowe's movie, Rudin is working on making just such a dream come true for Cooper, likely with the Shubert Organization, with whom he's produced dozens of plays, including Doubt. (Which he also turned into a film.)
The only question is when to do each.
Both the film and the planned three-month Broadway run for The Elephant Man would likely need to occur after the first quarter of next year, when Cooper is scheduled to reteam with his Silver Linings Playbook director David O. Russell for the now-untitled film formerly known as American Bullshit. That's the dramatic retelling of the ABSCAM scandal that took down half a dozen members of Congress, including a U.S. senator. (The film also has Christian Bale, Amy Adams, and Jeremy Renner attached.)
Finally, there's the matter of what else Cooper has cooking after Crowe and Broadway: Specifically, we're told that he's also in talks with the Weinstein Company about starring in Chef, a long-simmering script from Eastern Promises screenwriter Steven Knight, with Blue Valentine director Derek Cianfrance calling the shots. In the vein of Cooper's 2005 TV series Kitchen Confidential, Chef follows an eccentric American chef — considered by most to be the best in the world — who loses his status and his two-star Michelin restaurant in Paris because of drug and alcohol problems. Three years later, he arrives in London, gathers his old crew, and attempts to open a three-star Michelin restaurant. It's The Natural — with truffle oil!