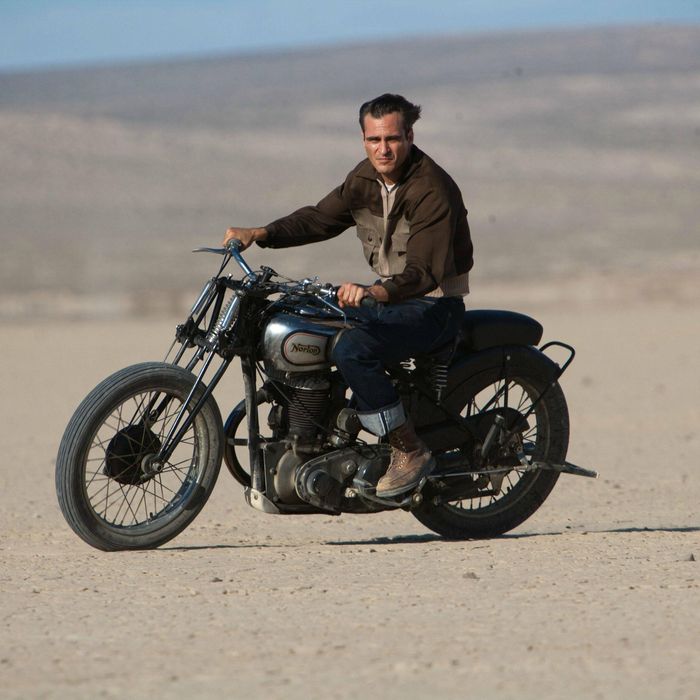 Immediately following the posting of a piece in Interview magazine in which Joaquin Phoenix declaimed the Oscar race as "total, utter bullshit" was the general assessment that he had just tanked his nomination prospects, despite his towering, grumbling performance in Paul Thomas Anderson's The Master. IndieWire headlined its piece "Joaquin Phoenix Says Goodbye to His Oscar Chances." Even Vulture's first take proclaimed, "Joaquin Phoenix Really Does Not Want An Oscar." But, in fact, a compelling argument can be made that there's a good chance that Phoenix will still be nominated. Here's why.
For starters, there's the Academy math. Of its 6,000 members, the single largest voting block in the Academy — about a fifth of it — is made up of actors, and only actors vote to determine the nominees for the acting categories. And while most would agree to campaign for the sake of their careers and to support their picture, actors will privately tell you that they detest the Oscar glad-handing and flesh-pressing that it requires. An Oscar campaign doesn't start out as an Oscar campaign, after all, but as a far lower-rent Golden Globes push, which, to hear veteran publicists tell it often, falls just shy of giving foot rubs to the Hollywood Foreign Press. It then morphs into a cavalcade of Academy screenings replete with painful Q&As for an audience of hoary septuagenarians whose hardness of hearing must be cheerfully borne in light of the fact that they're all packing Oscar ballots.
So, when Phoenix derided the Oscar race and its eventual spoils as "totally subjective" and then went on to decry "pitting people against each other" as "the stupidest thing in the whole world" — well, that's just catnip to the Academy's actors. Many of them have suffered great indignities over long careers without ever getting nominated for an Oscar, in their minds precisely because of the lobbying to which Phoenix is objecting.
"Actors will understand his message," says veteran Hollywood publicist Howard Bragman, who knows well the world of Oscar campaigns. Now the vice-chairman of Reputation.com, Bragman was the co-founder of the Hollywood public relations firm Bragman Nyman Cafarelli, which represented actors like Cameron Diaz, Whoopi Goldberg, and Kate Hudson when it was sold to Interpublic Group a decade ago. "People in the actors branch will respond to [what he's saying], which is: Everything else is just extraneous fireworks, and what really matters is the performance."
But the argument also holds water outside acting circles.
"Any sensible person would agree with him," says Joe Morgenstern, the Pulitzer Prize–winning film critic of The Wall Street Journal, adding, "The whole movie landscape has been poisoned by Oscar craziness. It's come to be the only way that movies are judged by a lot of people in the industry and a lot of moviegoers. Just as Rotten Tomatoes debases the whole idea of reviewing by turning it into numerical values, the Oscar race debases movies by turning everything into 'Is it or isn't it a contender?'"
There is recent evidence to suggest that the Academy's acting-branch voters agree with Phoenix's philosophy: In 2010, Mo'Nique was the presumed favorite to garner a Best Supporting Actress nomination for her work in Precious. But unable to break free of her duties hosting a daily BET talk show that kept her in Atlanta and with young children at home, Mo'Nique opted to wage a near non-campaign for the prize — a move for which she received considerable and mostly unfavorable media attention. (Hollywood Elsewhere blogger Jeffrey Wells wrote in 2009, "You know what, Academy? Don't give her the Best Supporting Actress Oscar. In fact, deny her a nomination and teach her a lesson. She doesn't want to play the game and show the respect so, you know, give the Oscar to someone who really wants and values it.") 
At the time, Mo'Nique argued to the New York Times that she wasn't ungrateful, just unlikely to change the outcome by lobbying: "Look, it makes me appreciative any time someone says they may want to honor your performance. I'm appreciative at any talk in reference to any award, but there's not much I can do about it now. The performance is done."
In the end, it worked: Clutching the 2010 Best Supporting Actress trophy — and before crediting her heroes, producers, attorneys, or even her husband — the first thing out of Mo'Nique's mouth was a thank-you to the Academy "for showing that it can be about the performance and not the politics."
Doug Wick, who produced the 2000 Best Picture winner, Gladiator — a film for which Phoenix was Oscar-nominated as Best Supporting Actor — concedes that the campaign for Academy hardware can be "horrible," even "dehumanizing." But Wick is just as quick to insist the Oscar campaign is a torture essential to the artistic health of the movie business Phoenix cares so much about.
"With fewer and fewer movies being made, everyone involved has an obligation to get them seen," he says, adding, "Because, let's face it: Yes, of course the Academy [Awards] were created to sell tickets. But it's a really important force, counteracting movies [all about] body counts and disaster. It's putting a spotlight on the best of what we do, on great work that might otherwise be lost between tentpole [films]. No matter how ugly the competition or out of control the campaigning, there's nothing like having a room full of your peers applauding for you."
Meanwhile, Terry Press, the marketing executive in charge of selling both Gladiator and Phoenix's performance in it at the time, believes Phoenix is still sure to be nominated for The Master, even as he disparages the very idea of acting prizes.
"Being against 'artist-against-artist' is a chestnut onto itself," says Press, the co-president of CBS Films, "The anti-campaign is now its own kind of campaign — though, not in his case, 'cause, well, he's Joaquin Phoenix: I mean, Google him and 'Letterman appearance.' But this is just 'artist talk.' It's not, 'I think the Academy is filled with vipers and con artists!' So people will give him the nomination — and, I'll tell you, what I haven't heard Joaquin say is 'If they do give it to me, I will give it back!'"