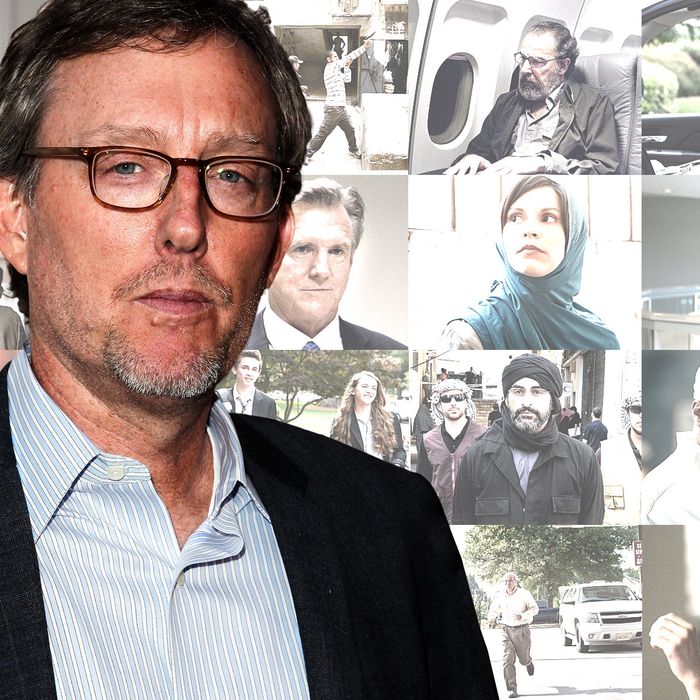 Photo: Charles Harris /AdMedia/Corbis; Showtime
A few days before Homeland made a virtual clean sweep at the 2012 Emmy awards, winning top honors for acting, writing, and drama, Vulture headed out to the show's L.A. offices to meet series showrunner Alex Gansa to see what happens on his workday. We happened to drop by during what he describes as a very busy time: While Claire Danes, Damian Lewis, and the cast were shooting in Charlotte, North Carolina, the writers room had just finished plotting the final three episodes of the second season (Gansa will co-write the finale). As those scripts were getting hammered out, he was going through drafts of other scripts and cuts of in-progress episodes with executives from Showtime and the studio Fox 21. Gansa began this Tuesday, September 18, with a cup of tea in his office on the Fox lot. Five different episodes needed his attention.
(A cautionary note: We've redacted major spoilers, but as Gansa is working on the second half of season two, some minor future plot points are discussed. We assume if you're reading further, you've already watched Sunday's premiere episode. Consider yourself duly warned.)
HIS OFFICE: 10:55 a.m. A major character reveal in the script for episode eleven hasn't been sitting right with Gansa. "I woke up at 3:30 a.m. on Saturday in a panic attack," he tells Fox 21 chief Bert Salke over the phone. If they scrap the planned twist, Gansa says the result would play out in a "very Homeland way" for Carrie. "Now, the story's not over." Salke agrees without debate. Gansa tells us he's woken up in a cold sweat four of five times already this season, but he seems to trust his gut. Those fevered attacks have altered the course of things more than a few times. "We had a lot more [planned out] last year than we did this year," he tells us. "In fact, we changed direction in a pretty major way mid-season [this year]. We thought we were going one way, and we changed our minds."
11:04 a.m. Conversation turns to Newsweek's controversial "Muslim Rage" cover that drew ire from media-watchers online the day before. Gansa recognizes that Homeland airs during anxious political times, and he hopes the audience won't mind feeling further unsettled. "The idea that President Obama watches has given us pause," he says. "Just in terms of the riots in front of the embassy [in Cairo], in terms of depicting the Koran at the end of the first episode back, we're trying to be a little delicate. The world is a bit of a tinder box right now." He brings up the book about the Osama bin Laden takedown, No Easy Way, in which author and former Navy SEAL Mark Bissonnette (under the pseudonym Mark Owens) references a "wicked-smart, kind of feisty" female CIA analyst who was instrumental in the taking down of the Al Qaeda founder. Gansa says several people have asked him if Carrie was based on this woman. "They assumed she was," he says.
EDITING BAY: 11:15 a.m. Gansa walks over to the edit bay, where he has a handful of notes on how to recalibrate episode seven so that Brody's growing anxiety is made palpable. But first he congratulates Jordan Goldman on his Emmy win; Goldman received his kudos for editing the pilot of Homeland at the previous weekend's Creative Arts Emmys ceremony. Gansa has brought chilled Champagne "from a small family Champagne grower in France" to celebrate. Goldman suggests mimosas, and Gansa blanches. "It's too good for mimosas," he says.
11:20 a.m. The opening scene of episode seven begins with Roya (Zuleikha Robinson), the reporter working undercover for Abu Nazir, anxiously waiting in the park for Brody to jog by. She's got new orders for him. "I gotta tell you, I don't like this," says Gansa; the scene's feeling a little flat to him. At this point, Brody "is a pressure cooker that's building as he tries to deal in his new situation," he says. "That needs to come through here." To frame the conversation differently, he's looking for tighter, alternate reaction shots of Lewis and maybe fewer two-shots with Roya. "It's been the most challenging thing, locating Brody, both operationally and emotionally in the second season," Gansa tells us. "I mean, we'll see. I'm not 100 percent sure we were entirely successful." On the other hand, "you don't want him entirely knowable. Frankly, I think Damian has a harder job than Claire."
11:40 a.m. Danes's pregnancy is starting to show, but it's the one thing Gansa doesn't have to worry about. "This will all be visual effects shots to get rid of the baby bump," Goldman explains to us. Her growing belly disappears through the magic of a body double and some CGI wizardry. Says Gansa: "What you do is you film Carrie, you film the body double in the exact same location, then you film this plate and you insert the double's torso on Carrie's figure." Voilà!
11:45 a.m. Looks like Marin Ireland is back as domestic terrorist Aileen Morgan. Saul needs something from her and pays a visit to the maximum security prison in which she's being held in solitary confinement. Gansa wants the removal of her chains to go a lot quicker, saving precious seconds of run time.
11:55 a.m. Two more scenes need to be scrutinized and reframed, again, around Brody's nerves and skyrocketing stress. Gansa has meticulous notes on a limo ride in which Brody's wife, Jessica (Morena Baccarin), corners Brody for information. "He told me something upsetting about you," she tells him. "He told me you [REDACTED] … I can take it if it's the truth, but I can't take another lie." Gansa wants the music playing under the conversation swapped out for something less nefarious. "That Middle Eastern instrument there, it's too much, it's too on the nose," he says. "I'd rather be playing the turmoil in Brody's breast right there rather than evil Brody. Right now, we're playing Brody being slippery rather than the sturm and drang of all this anxiety." Goldman and Gansa also review more dailies, searching for better eye contact with Baccarin from Lewis. Gansa wants a shot of Brody that reads: "His wife is up his ass, he's gotta make a decision, but also that he's controlling his anger." In a second scene, in which Brody's being grilled about his time in captivity during a gathering with potential benefactors, Gansa's unhappy with the performance of one of the actors with a bit part — "We did just win a casting Emmy," he says — and goes through all existing footage of the performance trying to find reaction shots that don't read amateur hour.  
1:00 p.m. While Goldman continues to chug away on the fixes, Gansa moves into another edit bay, this one belonging to another series editor, Terry Kelley, to take a notes call with executive producer Chip Johannessen and Showtime's president of entertainment, David Nevins, and executive vice-president of original programming, Gary Levine. They'll be reviewing two different episodes, but first, Gansa re-pitches his 3:30 a.m. epiphany to nix the switcheroo in episode eleven, again selling the effect it will have on Carrie. "She'll be paranoid, she's on edge … it's a nice psychological moment." Nevins doesn't need convincing. He, too, originally had trouble with the twist.
1:06 p.m. There's a death of a major character coming late in the season that Nevins likes, and he wants to make sure it plays out in a bigger way than what's written on the page. He wants the news to floor the other characters. "I don't know what their reaction should be exactly, but I want to encourage you guys to make this as full and rich and emotional and climactic a moment as it deserves," he says. Gansa and Johannessen listen quietly and assure him it will happen that way.
1:15 p.m. Season two will feature more action — there's a rooftop chase in episode two and "a sequence in the woods that's more physical than psychological in episode three," says Gansa — but when the discussion shifts to a shootout in a cut of episode six, Nevins says it felt off-base. "Those guys coming in with their Kevlar vests, it just felt like a 24 moment in the middle of Homeland," he says. "I'm trying somehow to get to the drama of what seems like a simple operation" going very wrong. Gansa and Kelley begin combing through alternative footage, while Nevins suggests shortening the length of the scene and dropping some of the kill shots. 
1:30 p.m. Focus turns to this week's "Previously on … " recap, the refresher courses that precede each episode. Don't fast-forward through them; a lot of time is spent on making them specific to what you're about to see. For episode six, the network wants a prominent reminder about Tom Walker's death.
1:56 p.m. There's a final question from the network about whether or not the writers will be setting up a character's secret [REDACTED] earlier in the season. Gansa says they considered doing that but ultimately decided against it. "The moment you set it up, you're just gonna telegraph where the story is going," he says. "We put it in a couple of drafts and it just stuck out … It's better that [the character's] been covering it up."
BLUWAVE AUDIO: 4 p.m. Gansa gets to the sound studio in Burbank where the show is mixed before we do. During his drive from Fox, he took another notes call in the car, this time on episode ten. That means that today he's worked on four different episodes. Even for a showrunner as thorough as Gansa, it seems to be an overwhelming amount of detail to be familiar with all at once. "I read each script a minimum of ten times. Every draft." he says. "I watch every cut of every show at least half a dozen times so it's all in my head. That's the job. But today, I got a little confused," he says. "My brain felt like a creaky door as I tried to orient myself with episode ten."
4:04 p.m. Time to screen a near-polished cut of episode four (Gansa's fifth to critique in as many hours), in which Carrie and Brody come face to face for the first time since her electroshock therapy. "I'm very superstitious," he says, grabbing one of the director's chairs. "This one is mine. I always sit here."
4:50 p.m. "You guys did a fucking great job!" Gansa tells the sound engineers gathered. Showtime creative executive Randy Runkle is also on hand to give notes. (Apparently, episode three kept them all working until past 10 p.m. the other day.) Today, most of the fixes are simple, and Gansa kept a log of the minutiae that need fine-tuning, i.e. he wrote that the score in a scene where Carrie is pulling up in a car is "a little too autumn-in-a-romantic-comedy"; in another moment, Brody is headed to a room 416, but is seen getting off an elevator on the third floor; and daughter Dana's reflection in one scene looks too much like she's a floating head without a body.
5:16 p.m. There's another too-obvious music cue in the final scene between Carrie and Brody, so Gansa polls the room: Is there too much score? Should they nix it entirely? Everyone agrees to go with dramatic silence for the last few seconds of their meet-up. "The shows that function well I think are the shows that embrace everyone's voice," he says. "I've been in many situations that aren't like that. We try very hard here, and it's something I learned from [fellow Homeland executive producer Howard Gordon] on 24."
5:21 p.m. While the engineers begin making their adjustments, Gansa has a brief break to talk about … more TV. He wants to know if we've got the last season of Breaking Bad. He hasn't found time to start watching, and he wants a Walt and Jesse fix. He's also thinking about the looming Emmy weekend. He's going to prep two speeches in case Homeland wins for writing and drama series, but he's not exactly looking forward to it. "I'm trying to squeeze it in here. I'm terrified. These things are impossible. I feel like walking over to [New Girl creator and executive producer] Liz Meriwether's office and asking her to write it for me," he says. (The writers rooms of Homeland and New Girl are located on the same floor of the office building on the Fox lot.) "Liz is funny, smart, charming, and I'm just going to be super earnest if we win." Gansa's hoping to head out early today, around 7 p.m., to take his wife to dinner. On the weekend, he'll surf, his favorite way to disengage. But maybe not this Sunday. As we know now, he was busy being super earnest.